The Futurist Banquet!
What comes to your mind when you think about a Futurist Banquet? I bet it wasn't the sight of a 800lb spit roasted cow being cycled around the city! A unique Futurist Banquet held at San Francisco Museum of Modern Art (SFMOMA) last Saturday featured exactly that!!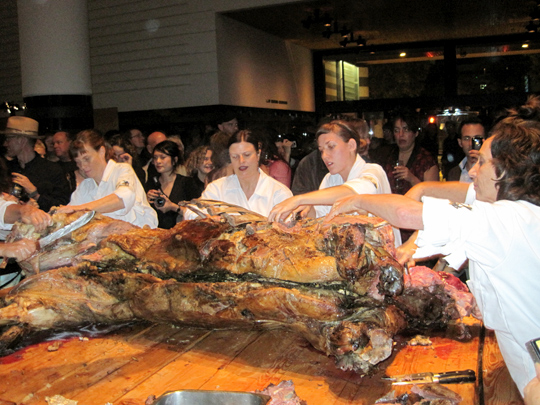 This Futurist Banquet held by the OPEN restaurant was inspired by the Futurist movement started by the Italian Poet and Activist F.T Marrinetti. The cow that was spit roasted for 18 hours the previous night was butchered at the Futurist Banquet by an all women chef team amidst the rising din of clapping hands. In keeping with the prominent concept of energy cycling in the Futurist movement, the whole beef was used up in one way or the other.
 
The Beef was transferred via conveyor belts to food stations where innovative beef dishes like the Corn Beef Ice Cream (Tortila shaped into corns filled with minced beef balls)was prepared and then passed around. The displays at the Futurist Banquet did not stop with the cow! An Italian poet rendered his poems form different corners of the banquet hall while bicyclists kept meandering through the crowd enjoying their beef! Food was served in an  all together novel fashion. While pureed avocado liqueur puree was served in wine glasses, wine was served out of gas canisters.
 
 
 
All this happened while eerie and uncomfortable soundtracks featuring interrupted cow moos, moans and screams as well as emergency sirens played. The morbid scenes of plane crashes and body extractions featured on the Jumbo screens are the gory details of the Futurist Banquet!
 
 
As far as I can see, the Futurist Banquet seems to have been a little crude and gruesome , but for many futurists who turned up on October 17th this was a thoroughly enjoyable visit. Personally if this is what futurism is all about I would say, No Thankyou..Just get me my minced beef on a simple plate minus all the drama and presentation!!!! So much for a Futurist banquet!
 
 
Image Credit
www.eatmedaily.com
The Futurist Banquet!