What Are The Health Benefits Of Almond Milk
25 Feb 2011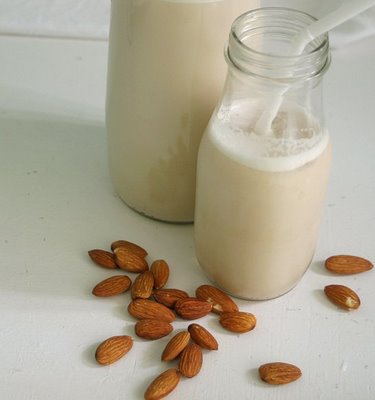 There are not only several health benefits of almond milk but also several convenient uses of it particularly as substitutes for cow's milk. Almond milk is available in stores but it is definitely more eco-friendly to make your own since it's so easy. Soak almonds for about an hour or two in an equal amount of water. Pour the mixture into a blender and blend for two minutes. Strain the blended mixture and you have almond milk. It looks exactly like regular milk and can be virtually substituted in most recipes. The strained residue can be used in any other dish to add volume to gravy or you could even make marzipan by mixing in powdered sugar, coloring and flavoring.
The health benefits of almond milk are mostly attributed to the differences it has from regular milk. They are as follows:
Almonds are a rich source of vitamin E and so is the milk. It's recommended for people following a cleansing diet.
As opposed to cow's milk, almond milk contains only few traces of saturated fat and absolutely no cholesterol.
Almond milk has the healthy variety of fat called unsaturated fats. These fats are known to significantly lower the risk of cardiac complaints.
Almond milk is abundant in trace minerals required by the body. These include metals such as potassium, zinc, iron and magnesium.
For the lactose intolerant, almond milk is good news. It contains no lactose and you can rest assured of no adverse reactions as you have to cow's milk.
You can even make almond butter by entirely draining off the water before blending. This can make a good base for several dips. The only drawback almond milk has is its cost.
Image credit: preparednesspro.com 
What Are The Health Benefits Of Almond Milk