Health Benefits Of Coconut Milk

27 Jan 2011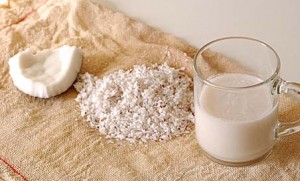 Cooking with coconut milk is seen widely in Thai cuisines and to greater extent in Southeast Asian countries for creamier textured dishes. Coconut milk is the best and cheap alternative to milk and cream and additionally there are many health benefits of coconut milk.
Coconut milk is made out of coconut flesh and it is not the water that is seen inside the coconut. Physically coconut milk is similar to dairy milk and soy milk. So those who have coconuts in abundance or cannot afford dairy milk or those looking for a different taste can start using coconut milk in cooking and get the health benefits of coconut milk through delicious foods.
A list of few very important health benefits of coconut milk is given below.
Balance blood sugar level
Coconut milk is a store house of essential minerals especially manganese. Manganese deficiency and poor glucose tolerance are interrelated hence a diet including coconut milk helps replenish manganese and thereby balancing blood sugar level.
Prevent Anemia
Yet another major coconut milk health benefit is its ability to treat and prevent anemia. Drink just 1 cup of coconut milk everyday and you can get upto 25 % of daily requirement of iron. Adequate iron is essential for keeping hemoglobin at normal levels thus preventing anemia.
Build bones
Coconut milk contains phosphorous, a mineral that is as important as calcium for building strong bones.
Relives pain in muscles and nerves
Food containing coconut milk helps to relieve muscle pain. Magnesium present in coconut milk helps to ease sore muscles.
Weight control
Good news for people who are on a weight loss regime, health benefits of coconut milk also includes controlling weight. It is rich in fiber hence drinking coconut milk is highly recommended for those who are on dieting for losing weight.

Normalizes high blood pressure
Potassium rich coconut milk helps to reduce high blood pressure.
Boost Immune System
Coconut milk has vitamin C in it; consuming coconut milk can help to keep cold and cough away thereby improving body immunity.
Antioxidant
Coconut milk's anti-oxidant named selenium can help prevent arthritis. So those who are already suffering with rheumatoid arthritis can start consuming coconut milk for some relief.
Health benefits of coconut milk can give an overall boost to one's health, so why not start using this wonderful, delicious and healthy nature's packaged milk.
Image courtesy:  diet.ygoy.com
Health Benefits Of Coconut Milk