Listen To This: Milk Can Sabotage Your Diet

6 Jan 2011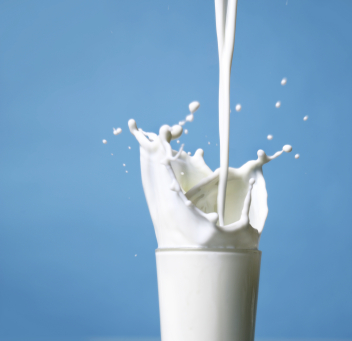 Milk is a healthy food and mothers always make sure that their kids get ample amount of milk in their daily diet. However, Listen To This: Milk Can Sabotage Your Diet. Well, I am sure that you are surprised but milk which has always been recommended for its nutritional benefits can cause harm if taken in large quantities.
The recommended amount of calcium for teenagers is approximately 1,300 mg per day. According to the American Academy of Pediatrics, "The average dietary intake of calcium by children and adolescents is well below the recommended levels of adequate intake." And a national survey suggested that as low as 13.5% girls and 35% of boys met this criterion. The survey was conducted on teenagers aged between 13-19 years. This clearly reveals the fact that most teenagers don't meet the daily calcium requirements. But this deficiency of calcium should not be overcome by milk alone. Children should be given other calcium rich foods such as tofu, broccoli, peas, almonds, spinach, collard greens and, eggnog.
Drinking excessive milk puts the child to risk of developing certain diseases later in life such as, diabetes and cancer. Milk causes a spurt in growth by stimulating the release of the human growth hormone somatotropin, which can result in the teenagers' height growth above a certain level. A study suggests that people with above average height are at greater risk of developing colon and pancreatic cancers. According to Dr. Dominique Michaud, an investigator at the National Cancer Institute, "increased milk consumption increases the cancer risk related to exposure to the growth hormone in milk during adolescence."
Some sensible dairy alternatives to milk are yogurt and cheese. Even though they are made from milk, but these products are chemically altered by fermentation. Hence they don't stimulate the release of somatotropin, the human growth hormone.
Milk can sabotage your diet, since the milk that is available in the supermarkets in today day and age is processed milk that does not satisfy the calcium requirements of the body. This commercially pasteurized milk is not acidic in nature and contains indigested calcium which can't be absorbed and utilized by the cells. Since these undigested calcium particles are not assimilated they buildup in the body and causeexcessive levels of calcium.
One of the major drawbacks of drinking milk is the elevation of blood insulin level which in turn makes the glucose level to drop significantly. Thus body craves for sugar and one tends to binge. This again causes the insulin to increase and blood sugar to go up as well. These wild swings in blood sugar give rise to hypoglycemia and can lead to diabetes. It is advisable that you do not sabotage your diet with milk.
Hence the key is to eat sensibly and not to overindulge in any particular food type. Eat right and stay healthy.
Image Credit: marlerblog.com
Listen To This: Milk Can Sabotage Your Diet