How to Eat Baked Milk
13 Aug 2010

In this blog, I am going to share with you how to eat baked milk. But, before I tell you how to eat baked milk, I should tell you what exactly is baked milk and how is it prepared. Baked milk is typical boiled milk, which is traditionally consumed in Ukraine and Russia. This preparation is known as "ryazhenka" in the local Russian language. Baked milk is prepared by simmering the milk on a low flame for 8 long hours at a stretch. Sometimes, more time is required to prepare baked milk.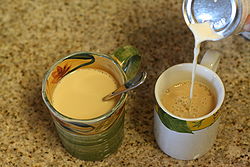 Eating baked milk in rural areas

In the rural areas, baked milk is boiled overnight in a jug of milk in the oven. Then, this baked milk is bottled and drank.

 
Industrially produced baked milk

These days, baked milk is produced in the industries. First, the milk is fermented or soured and then it is packaged in bottles. Sometimes, the milk is flavored with herbs and other flavoring agents and then, sold as drinks. You also get non-fat dry milk or baked milk in the market. You can purchase this milk and have a glassful everyday in the morning. This milk packs in health benefits too.

 
Eating baked milk made at home

Homemade baked milk is usually used as an ingredient in the preparation of cookies,  tarts, pies and cakes. Sometimes, this condensed and cultured baked milk is caramelized to be used in pastries. So, if you want to know how to eat baked milk in a different way, you can always add them in your baked confectioneries, cookies, and breads to have it. One popular baked milk dessert is the Belarussian baked milk with plums, which, you must try out if you are fond of desserts. Baked milk fish is also a popular option.You can add baked milk in any white fish of your choice and infuse the baked milk fillets with lemon juice, lemon pepper and onion. You can then savor this delicacy as a part of lunch or dinner. You can also add baked milk in your tea or coffee.
Picture Source: en.wikipedia.org

 
How To Eat Baked Milk