Indonesian Lunch Menu
27 Apr 2009
You should opt for the Indonesian Lunch Menu if your taste buds are craving for a spicy hot fare! An Indonesian lunch plate is replete with rice as the main course along with a number of really chili and spicy vegetarian and non-vegetarian dishes. Vegetable, fish, chicken, eggs and Sambal are hot favorites of any Indonesian! The Indonesian lunch menu varies for different cultures across the Islands. The Sudanese are lovers of fresh veggies and Sambal , but don't be surprised if they offer you a cup of tea without any sugar! If you have a sweet tooth, you should try the Javenese menu; and if you want your lunch to be a really spicy and hot affair the Padang menu is apt for you!
Here are some dishes from the Indonesian Lunch Menu that you might want to try out!
INDONESIAN LUNCH STARTERS
Gado Gado
The Indonesian Lunch Menu starts with a range of delicious starters from which you can choose your pick! If you are a health freak and want to go green, the Indonesians have the Gado-Gado, a vegetable salad, waiting for you! Add some potatoes, shrimp, hard boiled egg and top up the fare with peanut sauce! A light tofu starter that you'll love is the Tahu Sayur Isi . Enjoy the taste of fried tofu dipped in peanut sauce! Otherwise gorge on the Satay Ayam, a skewered marinated chicken dish before shifting over to the main course!
INDONESIAN LUNCH MAIN COURSE
Sambal Goreng Udang
Rice in all its simplicity or sophistication is the main course of the Indonesian Lunch Menu! Rice is served up with a variety of side dishes that your taste buds will find difficult to resist! Try the Nasi Goreng Ayam – Indonesian Chicken Fried Rice! You can also eat rice with the Sambal Goreng Udang- a delicious spicy dish consisting of prawns in coconut milk gravy! If not, you can feast on rice with Orak Arik- a traditional Indonesian stir-fried dish of shredded cabbage, carrots, herbs and eggs! Here's a really mouthwatering Indonesian Chicken Satay that you can try out for lunch ! For a change instead of rice you can try out this hit Indonesian Lemongrass Chicken With Flavored Appam which is a delicious rice pancake served with irresistible Indonesian Lemongrass Chicken !
INDONESIAN LUNCH LAST COURSES- FRUITS AND DESSERTS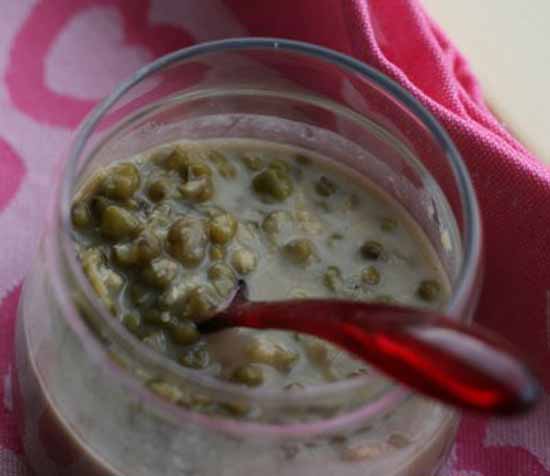 Bubur Kacang Hisau
After the spicy hot main courses you'll want to end your lunch with some fruit or tasty desserts! Some Pisang( banana) or Mangga(Mango) will soothe up your stomach after your main course. There are some delicious desserts made with coconut milk which complete the Indonesian Lunch Menu. Bubur Kacang Hisau(green beans porridge in coconut milk gravy); Getuk Lindri(sweetened cassava with fresh coconut) and Bubur Candil (rice boiled in gula jawa( palm sugar) and served with coconut milk). Another dessert dish that you might love to try out is the  superly delicious Indonesian Sweet Potato Tart !
The Indonesian Lunch Menu offers you a range of choices for you. You can choose a combination from the many options available to you.
image credits :
 Flickr
Indonesian Lunch Menu