Authentic Chinese Lunch Menu
22 Apr 2009
Chinese cuisine is vast and varied and is divided into many categories. Each one of teh eight main regions of china has a specific style and cuisine of its own that is truly indigenous.
The Chinese food that most of us are familiar with are mostly specialties from Beijing and the surrounding regions. Here is a chinese lunch menu based on the popular exotic and semi-exotic choices that are a pleasure to serve and eat.
Chinese Vegetarian Lunch Menu:
The vegetarian Chinese menu is just as appetizing and nutritious as its non-vegetarian counterpart.
You can start off the lunch with simple sesame seed biscuits, which hails from western China. Easy to prepare, these are a light start to the meal. Or you can serve deep fried lotus balls made with red beans and lotus root starch for a more exotic start.

  sesame biscuits                                                                                                  fried lotus balls
For the main you have a variety of popular semi-exotic options to choose from. Try the fried bamboo shoots in chili sauce over rice or the black fungus and bean with brown rice. If you want an elaborate meal, spice things up with the spicy sautéed cabbage or serve the blanched leeks in soy sauce.
Round up the filling meal with a sweet lotus root salad with sugar and vinegar seasoning or lotus sweets made with lotus seeds.
Chinese Non-Vegetarian Lunch Menu:
For an equally appetizing starter, serve the evergreen Chinese spring rolls made with Chinese mushrooms, bell peppers, lean pork and glass noodles as the key ingredients, all wrapped in spring roll wrappers and served with a sweet chili or soy sauce.
Move on to the main course with this refreshing chicken ginseng soup made with chicken, fresh ginseng and dates.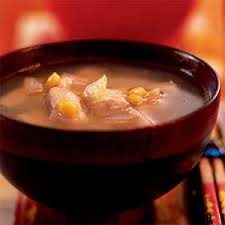 Move on a seafood platter of stir fried shrimp with cashew or crab meat with straw mushrooms. You can elaborate it and add an extra dish of Cantonese lobster which is best served with hot, cooked white rice.
If you are in the mood for something meatier, try pork favorites like cabbage wrapped pork rolls or sweetened Jinhua ham.
End the sumptious meal with a dessert of healthy crispy walnuts or gingered fruit (dessert salad form) prepared with pineapples, cherries and lychees with toasted almonds.
Image credit:
http://www.chinesefood-recipes.com
Authentic Chinese Lunch Menu