Indian Dinner Menu
21 Apr 2009
The Indian Dinner Menu has a range of mouthwatering dishes to offer you! Akin to all other cultures, dinner being the last meal, it comprises of light and easily digestible dishes. Rice does not figure out in the Indian Dinner Menu in most regions of the country, except for some South Indian States.  But fried rice, biryani and pulavs are special rice dishes that are a craze at most party dinners! Rotis, naans, chapattis and a variety of Indian flatbreads are eaten with irresistible curries, salads and condiments! In fact, great care is taken in the preparation of the accompaniments as compared to the main courses in the Indian Dinner Menu because it's side dishes that actually make the dinner a hit or a flop! The dinner also includes a dessert item which is generally a non-frozen sweet dish. Curd or Raita are important elements of the Indian Dinner Menu.
Similar to the breakfast and lunch menus, the Indian Dinner Menu varies across the different cultures of the country.
THE NORTH INDIAN DINNER MENU
The North Indian Dinner Menu consists of tandoori roti, naan chapaties served with spicy curries and chutneys. Tandoori Chicken (chicken prepared in a tandoor, a kind of barbecue oven) and other chicken dishes are fondly eaten by the Punjabies with their Tandoori Roties(flat breads made in a tandoor). Dal Tarka is another typical side dish that is paired with roti. Generous helpings of vegetable salads made from onion, beetroot, cucumber and carrot; and pickles and chutneys are the next fare with which you might want to have your roties. You might end your dinner with a bowl of curd. Gajar ka halwa, kulfi, milk shake are some of the dessert passions you might want to end your day with.
Here are some great North Indian Dinner Menus that you might want to try:Indian Dinner Menu1, Indian Dinner Menu 2 . Here's a North Indian Dinner Menu that you can try out during Diwali.
THE SOUTH INDIAN DINNER MENU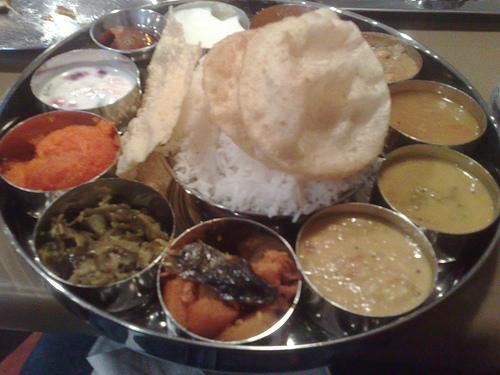 The South Indian Dinner Menu consists of rice as the main course. You can have rice with Rasam, a light stew made from tamarind and seasonings. Spicy and savory chutneys and curries are favored by the South Indians. Some South Indians might have chapattis at night. Curd or buttermilk is mandatory with rice or chapattis.
THE EAST INDIAN DINNER MENU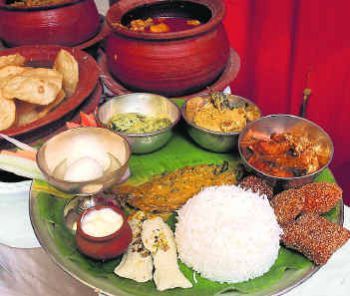 The most popular of the East Indian Dinner Menu hails from the Bengali cuisine. Like the South Indian, the Bengali is a lover of rice. He/she would prefer to have rice with dal, a couple of fried curries like alu bhaja(potato fry) and begun bhaja(brinjal curry), panch mishali torkari( mixed vegetable curry) and  macher jhol ( gravy fish curry). Some Bengalis prefer to have roti too at dinner. You finish off the dinner with sondesh as the last course.
Here's a great link where you can learn more about the Bengali Dinner Menu. If you want to know what's on the Bengali Wedding Dinner, click on the link!
WEST INDIAN DINNER MENU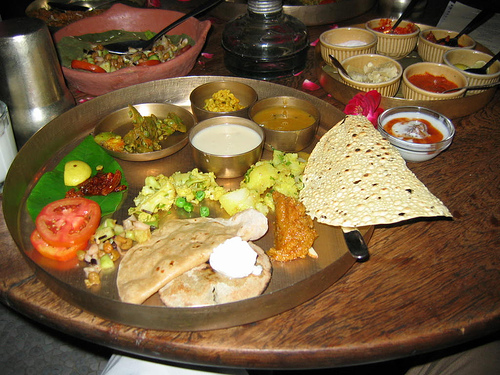 The West Indian Dinner Menu comprises of spicy and savory dishes from the Gujrati, Rajasthani and Maharashtrian cuisines. Rice, dal, curry, farsan, pickles, chutneys, khaman dhokla and green vegetables are popular gujrati dishes. The Maharashtrian dinner consists of poli or chapatti( flatbread), bhakri( flour bread), bhaji( fried snack or side dish), rassa (potato curry), varan ( dal or lentil), Aamti( lentil ). Goda Masala( onion, garlic, ginger, red and green chilli powders and mustard) and Kala Masala are the typical  spicy seasonings of the Maharashtrian region which are used in most of the recipes.
Here's a fascinating video on Gujrati Dinner Menu !
image credit : flickr, hindu, wordpress, nomad4ever
Indian Dinner Menu