Chinese Breakfast Menu
18 Apr 2009
Chinese breakfast dishes and recipes though simple are as varied as the provinces and cultures in the different parts of china. Chinese breakfast dishes are mostly light yet nourishing and filling.
If you are looking to prepare a Chinese breakfast or brunch, here is a menu of the most popular Chinese breakfast recipes. These breakfast recipes come from different parts of China and each have a unique taste of their own.

Northern China:
A typical northern China breakfast menu includes mantou which are soft steamed breads or shaobing which are unleavened pocket-bread with sesame as the basic bread. There is also the more elaborate baozi which are steamed buns with meat or vegetable stuffing, with dounai or doujiang soy milk or tea.
Of this spread my favorite is the stuffed baozi, which is filling yet makes a simple one dish breakfast. The Tibetan equivalent of the baozi is none other than the popular momo! Baozi can be eaten at any meal but is generally preferred for breakfast. It is also known as bao, bau, nunu or pow.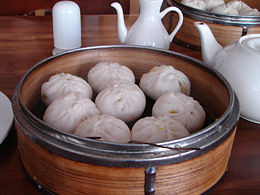 Central China:
The eastern and western central provinces of China have drawn their culinary inspirations from both the northern and southern parts of China and have fused them in a delicate way.
The breakfast fares in the central regions of China may include ci fan tuan which is fried dough in sticky rice wrap, youdoufu fensi which is a soup made by fried tofu and cellophane noodles, plain rice porridge or rice congee served with numerous side dishes such as salted duck eggs, pickled vegetables, and century eggs, or sweetened or savoury soy milk served with shaobing or youtiao which is almost like a lightly salted and fried breadstick.
The ci fan tuan also called ci faan can be both savory with pickled vegetable or pork floss wrapped in the rice ball. There is also a sweet variety which has sugar and sometimes sesame in the filling.
As for myself, I like the classic and simple rice porridge or rice congee with a side of slated duck eggs and pickled vegetables. It is a very old and traditional recipe dating back to ancient China.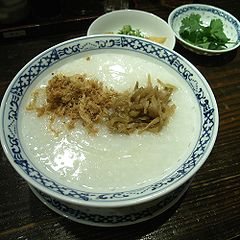 Southern china:
The southern China breakfast recipes include some of the central china recipes with a slight variation and different side dishes.
It however also has a regional breakfast menu of its own which includes some of the most popular and widely known recipes like rice noodle rolls or cheong fun served with Hoisin sauce and soy sauce, pan fried noodles with bean sprouts, spring onions, and soy sauce, fagao or rice cakes, jianbing which are thin crispy omelets with fillings, luobogao or turnip cakes and zongzi – a variety of rice cake wrapped in bamboo leaves.
Of all the breakfast spreads, this is perhaps the most familiar to people around the globe. It also happens to be my pick of the menu. I especially recommend the highly nutritious and savory pan fried noodles with sprouts, spring onion and soy sauce.
This was but a peek into the most popular regional breakfast recipes across China. Being such a large and old nation with hundreds of years of culinary history, it is not possible for one to savor all of China's delicacies in one life perhaps.
The dim sum breakfast here deserves a mention as it is a spread and a different course in itself, and has been served since ancient times and still served as brunch in parts of rural China.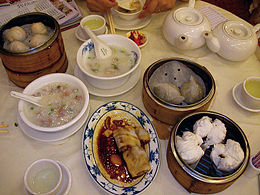 Dim sum spread
Image credit:
www.wikipedia.org
community.tasteofhome.com/forums/t/696762.aspx
Chinese Breakfast Menu