Indian Lunch Menu
18 Apr 2009
The Indian Lunch Menu has a fascinating range of courses for you to choose from! The lunch primarily consists of the thali( meal comprising of different dishes). The thali differs from region to region which can be broadly classified into the North, South, East and West Indian Thalies. The Indian Lunch Menu typically consists of the staple, which may be rice or roti, or both; a couple of curries, dal or stew, chutney, pickle, curd, fruit (mostly banana) and a sweetmeat. The accompaniments form an essential part of the Indian Lunch Menu and you cannot probably down rice or roti without them!
The Indian housewives are deft at mixing a variety of spices and ingredients to make hit courses and in many households the traditional tastes are preferred over the modern ones! If you want to feast on spicy dishes, just drop in at an Indian household at noon for a midday meal and enjoy the yummy courses there!
The Indian Lunch Menu is designed for eating with the bare hands after washing them thoroughly. Traditionally, the meal might be laid out on a banana leaf though the thali generally consists of attractively arranging the dishes in a steel tray.
THE NORTH INDIAN LUNCH MENU
532704-indian-lunch-menu.jpgv0

The North Indian Lunch Menu is an attractive assortment of a number of mouthwatering and colorful dishes. Start your meal with different types of Indian bread – poories, parathas or chappaties with irresistible accompaniments made from green leafy vegetables, mostly spinach and mustard, or paneer(cottage cheese). Next you can relish plain rice with dal, or north-styled pickle or chutney. There are a range of pilafs that you can try out along with yogurt raitas, mint, cilantro or tomato chutneys.  As a last course you can have sweets made of milk or cottage cheese and nuts. Finish off the menu with a glass of Lassi or Chas (buttermilk).
Here's a North Indian Lunch Menu that you must try out!
THE SOUTH INDIAN LUNCH MENU
532705-indian-lunch-menu.jpgv0

The South Indian Lunch Menu differs according to the different cultures prevalent there. The Andhrites, Kannadigas, Keralites and Tamilians all have their typical courses which they have for lunch. Commonly rice is the predominant course which is consumed from the beginning to the end. Sometimes poori is also served for special occasions. In the South Indian Lunch you start off with rice mixed with one or two varieties of curry, and pappu(dal). Next you have rice mixed with sambar or rasam, accompanied with papad, chutney, and pickle. Lastly rice mixed with curd is eaten to have a soothing effect on the otherwise savory and spicy meal. The dessert consists of payasam, kheer or halwa.
Here's a South Indian Lunch Menu that you might want to try out.
EAST INDIAN LUNCH MENU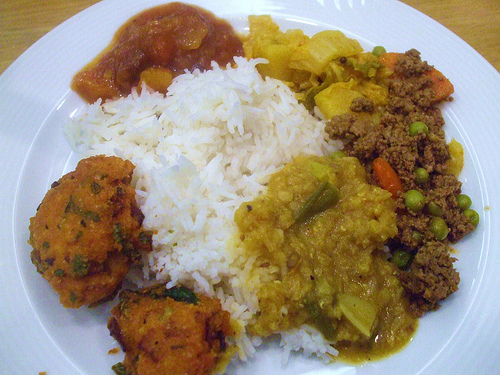 The East Indian Lunch Menu popularly comprises of the Bengali fare. The Bengali lunch is again predominated by rice which is served in five courses. Vegetables, dal, meat and fish are served as side courses. The Bengali lunch is an Indian Lunch Menu that is specifically designed from the health point of view. You start off with rice mixed with mashed potatoes or bitter gourd. Shukto, a stew of vegetables is served next along with rice. The third course consists of fish and rice.  Next dal and sabzi(vegetable curry) is served. Lastly, you end with a sweet chutney or dessert.
Here's a popular Bengali Lunch Menu you might want to try out. Here's a nice description of the Bengali Lunch Menu.
WEST INDIAN LUNCH MENU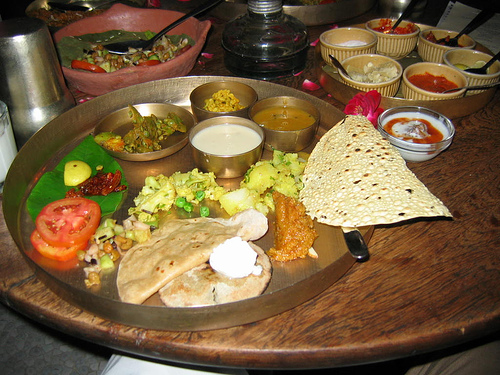 The West Indian Lunch Menu consists of the Maharashtrian, the Rajasthani, and the Gujarati thalies. The dishes are primarily vegetarian.
The Maharashtrian thali consists of about 15-16 dishes that include bhakris made from rice,jowar, ragi or cornflour; pitla(a dish made from gram flour) and rotis; three or four different types of curries including Usal, served in watis (typical Maharashtrian serving cups), and dal. Amarkhand and Shreekhand are served as desserts. The Gujarati menu also consists of dals, vegetables, pickles and curd. The Gujaraties like most of their dishes slightly sweetened. The Rajasthani Thali essentially consists of spicy vegetarian dishes.
Here's a popular Rajasthani Lunch Menu that you might want to try out!
image credit: flickr
Indian Lunch Menu