A Traditional Moroccan Dinner Menu
A tradition Moroccan dinner is a grand affair! The setting, the food, the looks, everything matter. It works wonderfully as a theme for an elaborate dinner party at home. A traditional Moroccan dinner menu offers a palette of tastes and flavors that is extremely enticing and filling.
Traditional Moroccan Dinner 1

I would advice that when planning a traditional Moroccan dinner, focus not only on the food but also on the way you present it and the general ambience of the party venue such that you can generate a truly authentic Moroccan dining experience. With some very simple, creative and resourceful tricks you could end up hosting one of the best Moroccan dinner parties of your life time! Low table, exotic plates, colorful drapery and table cloth can add to the Moroccan experience.
 Traditional Moroccan Dinner2

The Moroccans cuisine is known for its exotic and spicy nature. Now personally, I prefer to stick to the authentic Moroccan dishes and recipes. A traditional Moroccan dinner can have almost 50 courses! Obviously, we are not gonna do all fifty. But if you follow the Moroccan dinner menu that I have put together here, I assure you an exceptional and exciting culinary experience
Start the dinner by serving chilled Moroccan Cabbage Salad or Moroccan Carrot salad that can be made with, shredded carrots, fresh garlic, lemon juice, and cilantro. Flavor the salads with traditional Moroccan spices such as cumin, paprika, cinnamon and cayenne.
 Traditional Moroccan Dinner 3

 Next, serve the Moroccan Chicken Couscous, a Moroccan national dish made from semolina, chicken, and spices. If youare a vegan, then you can prepare a Vegetarian Couscous.
Traditional Moroccan Dinner 4
Incase you want an even more elaborate menu then you can also include the Moroccan traditional pastry Bisteeya for dinner. This is a phyllo pastry wrapped around layers of chicken, eggs, a lemon-onion sauce and crushed almonds. The phyllo is coated in a sweet mixture of cinnamon and sugar.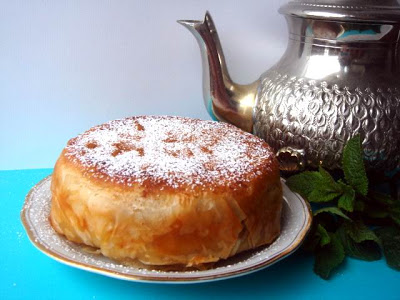 Traditional Moroccan Dinner 5
You can end the dinner with fruits like melon or oranges and of course the ever present Mint Tea.
Enjoy your Traditional Moroccan Dinner!

Image Credits
http://www.cap-sim.comhttp://2.bp.blogspot.com
http://www.bigharvest.com
http://www.iga.net.au
http://3.bp.blogspot.com
A Traditional Moroccan Dinner Menu