How To Plan And Enjoy A Great SuperBowl Party
With the Super Bowl Championship game just around the corner, it is time to plan and proceed to throw a perfect SuperBowl party!
Hosting a great SuperBowl party at home can be taxing, but if you plan things out at reasonable pace, things can well fall in place. It's not everyday that you and your friends get to share such a fun experience full of sports, passion and great food. Make sure your party is foolproof by planning and coordinating things as best as possible.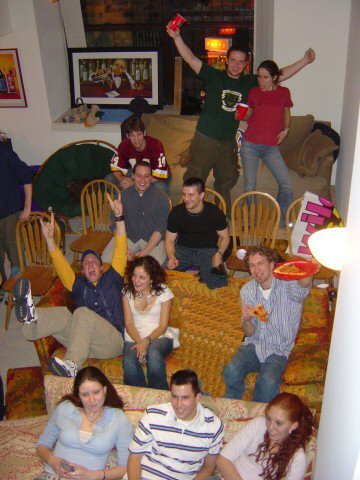 3 Days Before The Superbowl Day
1. Send Invitations: Although Super Bowl parties tend to be very informal get-togethers, to make things easy for teh host, a casual invitation is a must. This not only helps you get an idea of how many people will show up for the party, but also will be an interesting experience for your guests. Create a Super Bowl theme in the invitation to help put your guests in the mood right away. You can use printed invitations, phone, email or e-invitations. An online group is a great way to get input on your menu, party times, and coordinate potlucks.

 
2. Decorations & Noisemakers: Gear up with party items to create a festive atmosphere. Remember, when you watch the Super Bowl, you are witnessing history, so make the most of it!
A Day Before The SuperBowl Day
1. Get the SuperBowl Food Menu Ready: This is gonna be a whole day event and the last thing you want to do is to stand and sweat inside the kitchen cooking for about 20 people all day. So play smart and serve food that can be made the day before. SuperBowl Guacamole, mini taco appetizers, SuperBowl crockpot chili, dips, finger foods and finally a bowl of peanuts and chips on the table should make your guests happy.
2. Arrange for SuperBowl Party Drinks: BYOB is the norm these days, and it is much more acceptable to state this in the invitation. But if you are planning to serve the beverages, it's better if you go for a self-serve bar set up – this means you won't be bothered when the game is going on and the guests can mix their own drinks the way they want it. Have enough coolers, mixers and drinks handy.
3. Arrange the furniture: Your guests are gonna watch their favorite game and you cannot rule out the possibility of emotions running high. Arrange your furniture to make space for players who run around and put away fragile items so nothing is damaged. If you are using the whole house, place LCD monitors in all the rooms.
On The Day of the Super Bowl:
Let the fun begin: On the day of the Super Bowl, there shouldn't be any work left to complete other than to enjoying the game and keeping your guests busy. Have your guests dressed in their team colors, this will make the day all the more entertaining. Also, contests are a great way to increase guest participation. For example you can offer a prize for the best dressed Super Bowl Man or Woman.
PIcture Courtesy: Brendanputnam.com, sogoodblog
How To Plan And Enjoy A Great SuperBowl Party