5 Easy Kumquat Cocktails

16 Feb 2012
There is rarely a time when you would say no to cocktails, especially when it is the season of exotic fruits. The easy kumquat cocktails outlined here are a few such drinks to which you would relate. Being a citrus like fruit, the cocktails infusing kumquat have flavors and hues similar to orange cocktails . Enjoy each moment of your celebration by incorporating these magnificent fruit cocktails in your repertoire of drinks…
Top 5 Kumquat Cocktail Ideas
1. Kumquat Ginger Caipirinha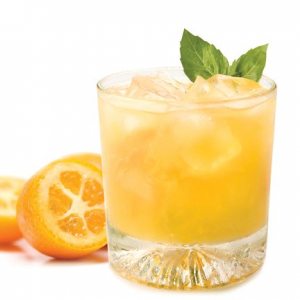 The indigenous Brazilian Caipirinha gets a new enticing and refreshing flavor with the addition of kumquat. In an old-fashioned glass, muddle five sliced kumquats with 2 tablespoons superfine sugar and one teaspoon finely chopped ginger. Add lots of ice cubes and add 2 ounces premium cachaca. Stir well and garnish with a slice of kumquat before serving.  
2. Kumquat Mojito
This mojito is a unique and amazing one. Muddle three halved kumquats, mint with half a lime, cut into wedges, and one teaspoon of superfine sugar until the aroma of mint is slightly dominant. Add 2 oz of white rum, preferably Bacardi, followed by 1.5 ounces of sweet and sour mix. Shake vigorously to blend the mixture well. Load a highball glass with about 8 cubes of ice, strain in the mixture, garnish with mint leaves, and serve.
3. Kumquat Champagne Cocktail
Add one and a quarter cups of thin kumquat slices, one third cups of Grand Marnier, and a quarter cup of sugar to a bowl. Using the backside of a heavy spoon, mash the ingredients to blend well. Allow to stand for about 5 minutes. Strain the mixture well; add about 2 tbsp of the mixture to a champagne glass, fill with champagne, stir, and serve.
4. Ginger-Kumquat Smash
Muddle 2 sliced kumquats with half a teaspoon brown sugar until the fruit juice come out. Add half a teaspoon freshly grated ginger and mix well. Mix in one and a half ounce of dark rum and stir gently. Top off with Sprite or simply, club soda and serve.
5. Kumquat Mule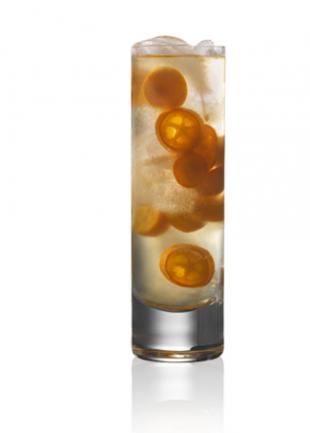 If you want to strange a familiar, yet different drink, the mule is the perfect choice. Muddle about 8 kumquats, halved, with a dash of maple syrup. Add 50 ml Belvedere Orange, 10 ml apricot liqueur, and 15 ml lemon juice, and shake with cubed ice. Strain into an ice filled martini glass, garnish with half a kumquat, and serve.
If you want to go beyond your lemon cocktails, yet have some familiar drinks at your party these easy kumquat cocktails are yours. So, try them!
Image Credit: luxuryvacationsource.com, underapinkmoon.blogspot.in, cocktailsdrinkrecipes.com, blog.haamoniismooth.com
5 Easy Kumquat Cocktails