Enjoy Tricolor Dishes On Republic Day
25 Jan 2012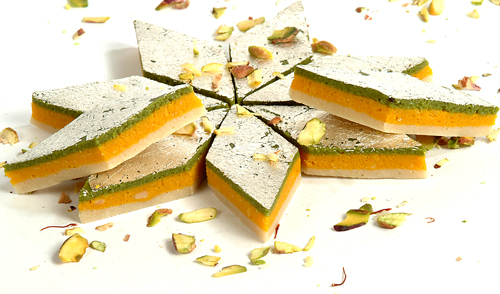 Food is a quintessential ingredient of all Indian celebrations, and Republic Day is no exception. Each of the tricolor dishes outlined in this write-up sport the three colors of the Indian flag – saffron, white, and green. Read on to know more about these Republic Day  recipes that are sure to boost your patriotic spirits as you celebrate being a part of the largest Democracy of the world.
Top 5 Republic Day Recipe Ideas
1. Republic Day Uthappam
Start your day by indulging in these patriotism filled South Indian delicacies. Prepare three chutneys – the tomato chutney for saffron, coconut and onion chutney for white, and the mint chutney for the green color. Once the dosas are ready, spread the chutneys in the following order – tomato, coconut, and mint. An easier way is to top off the dosa batter with finely grated carrot and coriander leaves, as shown in the picture, for a tricolor uthappam.
2. Tricolor Pulav
This is a simple recipe which all of you would have quite often prepared; the most basic of the pulav recipes! Just add carrots and green peas. Make sure that you do not add turmeric powder or any other food color to the rice, as you need to keep the white color of the rice intact.
3. Patriotic Sandwiches
Enjoy a delicious tricolor sandwich along with a cup of cardamom tea as you spend your Republic Day eve with your family. Choose to fill the white bread sandwiches with the most popular of the fillings - mint-coriander chutney and tomato chutney. Or, if you want a sweet sandwich, then you can use bottle guard/lauki halwa and carrot halwa. Try a mix and match of sweet and savory filling by choosing orange marmalade and spicy mint chutney!
4. Patriotism In a Cup
Three different color and flavored ice cream in a single cup – that is what this dessert is all about. Start with a pista/mint ice cream, follow up with vanilla ice cream, and top off with orange sherbet ice cream. If you do not get orange sherbet ice cream, then you can top off with vanilla ice cream and orange syrup to render the color.
5. Tirangi Burfi
Loaded with cashews, this is perhaps one of the most adored Indian desserts. Give it a patriotic touch making a tricolor burfi. You have to prepare three different mixtures – one with orange food color and one with green food color. Now, to get the three layers, start spreading them on the sheet in the order green, white, and orange. After 25 minutes, cut into diamond shape pieces using a sharp knife. Remove the pieces carefully, with all the layers intact when still warm.
These are just a few of the tricolor dishes you can create! Use your imagination and you are sure to come up with a lot more. Wishing everyone a great day ahead! Jai Hind!
Image Credit: kanahalwai.com, ifood.tv, vasavisrecipes.blogspot.com, sailurecipes.blogspot.com, mithaimate.com
Enjoy Tricolor Dishes On Republic Day