Top 10 Christmas Cocktails

4 Jan 2012
Cocktails are interesting and integral components of celebrations and Christmas is no exception to this rule. Forget the classic drinks and try something new! Welcome the spirit of this occasion with the fabulous Christmas cocktails mentioned here.
Fascinating Cocktail Ideas For Christmas
A chilled mixture of frozen lemonade concentrate, strawberry, and water mixed gently with dry champagne and ginger ale. This is definitely an unbeatable combination. If you do not get fresh strawberries, opt for the frozen ones.
2. Hot Apple Toddies
This hot drink is, perhaps, the best way to keep you warm during the biting winter. The apple cider, spiced rum, and cinnamon schnapps is simmered on medium heat along with cinnamon sticks for about 45 minutes. Serve them warm in a wine glass!
The colors of Christmas reflect in this watermelon martini. This is a classy twist to the refreshing cosmopolitan watermelon martini.
4. Cranberry Christmas Cocktail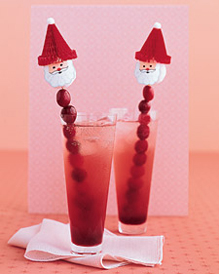 Lime juice blends perfectly with cranberry juice and pomegranate juice rendering an exotic flavor to this cocktail. Blend these juices along with vodka and serve in a tall glass topped with few sliced cranberries!
Boost the spirits of your Christmas party by serving this sweet and exciting cocktail. A perfect treat for the wine lovers, the fresh fruit combo topped with dry white wine is fabulously mesmerizing.
6. Mistletoe Margarita
This cocktail has the colors of Santa. Very few efforts are required to prepare this drink. Just blend fresh strawberries with tequila, Triple Sec, Strawberry Schnapps, and Lime Juice. Serve chilled in margarita glasses!
A cocktail loaded with fruits, it uses tequila as its base drink. The fruits are simmered along with sugar and cinnamon before mixing with tequila.
8. Tom & Jerry's
Loaded with cinnamon, all spice, and ground cloves, this rum and brandy cocktail is sure to grab the limelight. Garnished with freshly grated nutmeg, this brings in a classic touch to the party drinks.
9. Zero Hour
This drink is a blend of brandy and apricot brandy. The iced brandy is mixed thoroughly with Creme de Menthe and apricot brandy before topping with Pernod and olive. Serve them in chilled cocktail glasses!
10. Candy Cane Martini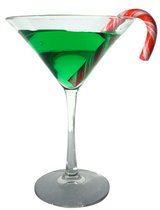 The green hued drink gets its name from its candy cane garnish. Peppermint schnapps blend in a beautiful way with vanilla vodka and crème de menthe, yielding a delightful drink. Serve chilled in martini glasses embellished with green and white candy cane.
It is now your turn to rock! Try these Christmas cocktails to uplift the merry making!
Image Credit: ifood.tv
Top 10 Christmas Cocktails