Easy Amaretto Cupcake Ideas

21 Dec 2011
Feel the delightful taste of the sweet, almond-flavored liqueur in these amaretto cupcake recipe ideas. I have mentioned three of them here – two are actual cupcakes, while one is faux. To know more about them, you will just have to read this write-up…
Tempting Amaretto Cupcake Recipes
A gooey, buttery cupcake infused with the rich flavors of amaretto cream, it forms an inevitable dessert for any celebrations. Topped off with a marvelous, yet classic amaretto-flavored cheese frosting, these baked goodies are sure to allure the guests towards it.
Ice cream molded like cupcakes – that is what these are. Nevertheless, you do not have to bake it. That is why I said in the beginning that these are faux cupcakes. Flavored with amaretto and topped with generous amounts of almonds, these form exotic frozen desserts for a scorching summer day. They are enticing goodies for summer BBQ parties as well.
3. Chocolate Amaretto Cupcake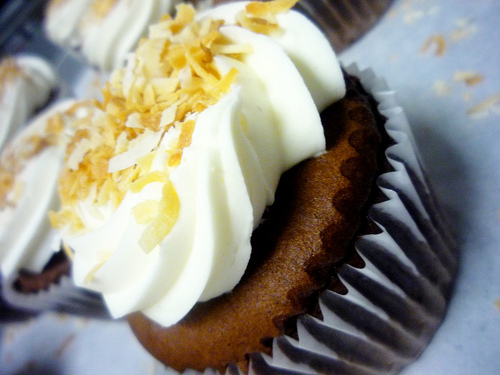 Give your chocolate cupcakes a new lease of taste by topping off with a luxurious and elegant amaretto frosting. Add a few sprinkles or top off with a pink colored heart for a wonderful Valentines' Day treat.
These are just a few  interesting ways to make use of amaretto. So, try these amaretto cupcake ideas and please your friends and family.
Image Credit: thecupcakeblog.com, ifood.tv
Easy Amaretto Cupcake Ideas