Hassle Free Holiday Meal
16 Dec 2011
Let's face it, as great as the holidays are they can be a hassle.  There just isn't enough time to humanly get everything done.  Between work, kids, spouses, shopping, holiday cards, etc. when are you supposed to actually enjoy the holidays?
Pig of the Month, has a holiday menu for you whether your gathering is small and intimate or a whole crowd, that will help you enjoy your holiday more and feel less hassled.  Never heard of Pig of the Month?  You've been missing out; Pig of the Month is some of the best award winning barbeque ever. It's a family owned and operated business that's been featured on Fox, Entertainment, ABC, Forbes, Yahoo and most recently endorsed by Iron Chef Michael Symon himself.
A couple of clicks on their website and you can have tender BBQ ribs, smokin' pulled pork, barbeque sauces that'll make you drool, side dishes and desserts delivered right to your door.  What could be better?
But wait, that's not all, they also have a recipe blog where some of the best food bloggers around contribute recipes for you to make on your own.  So order that slab of ribs and check out the blog or their recipe page for the perfect side or cocktail to go with.  Still not satisfied, how about their free wine and beer pairing guides; you'll be able to impress all of your guests with perfect wine and beer pairings.
Barbeque is perfect for any time of the year but it's not always feasible when you have so much to do.  Particularly, the poor Northerners; they probably don't want to stand in subzero temps all day smoking their own ribs, especially over the holidays.  What a hassle, thank goodness there is Pig of the Month.  I'm sure you know that Christmas' main color is red and barbeque sauce is red also, coincidence?  I think not, so what do ya say, "Let's Get Messy"!
The menu was designed to be super simple (order everything), or you can make a few easy dishes to supplement it.  Order/make depending on how many you need to feed or how many leftovers you want (that's what I'm talking about, a hassle free day after too).
Appetizers
Order Pimento Cheese and serve with some crackers and/or make some Apple Cheddar Fillo Cups.  To make the fillo cups, order the Spiced Cinnamon Apples, heat them in a microwave safe bowl, and fill some purchased fillo cups with the Spiced Cinnamon Apples, top with grated cheddar and broil for 1 minute or until the cheese melts and starts to brown, serve immediately or at room temperature.
Main
Order the Love Me Tender – The Memphis King of Baby Back Ribs and/or Slow CookedBBQ Pulled Pork Sliders.  To make the sliders order the Slow Cooked BBQ Pulled Pork and The Best Buttermilk Coleslaw, put some pulled pork and slaw on a purchased dinner roll and you have instant and delicious sliders.  Don't forget to order some extra sauce to go with the ribs and pork, I recommend the sampler package.
Sides
Pimento Macaroni and Cheese
How about a twist on a Southern Specialty Purchased Pimento Cheese from Pig of the Month makes this an easy dish to prepare.

8 oz. dried macaroni, cooked according to package directions

1 lb. order of Pimento Cheese
1/2 c beer (preferably dark)

1 sleeve saltine crackers, crushed

1/2 c butter melted
Preheat oven to 350°.  Spray or butter a 2 qt. casserole dish.  Over medium high heat in a non-stick pan, heat the pimento spread and beer, stirring occasionally.  You may need to add more beer if it's too thick.  Once fully melted and blended add the cooked macaroni, stir well to combine.  Pour the macaroni and cheese into the prepared casserole dish.

Crush the saltine crackers by placing them into a zipper top bag and using a rolling pin or other heavy object to crush them.  Alternatively you can put them in a food processor and pulse them, but not to finely.  Mix the cracker crumbs with the melted butter and spread evenly over the top of the macaroni and cheese.  Bake for 30-45 minutes, until hot and bubbly.

 
Red and Green Potato Salad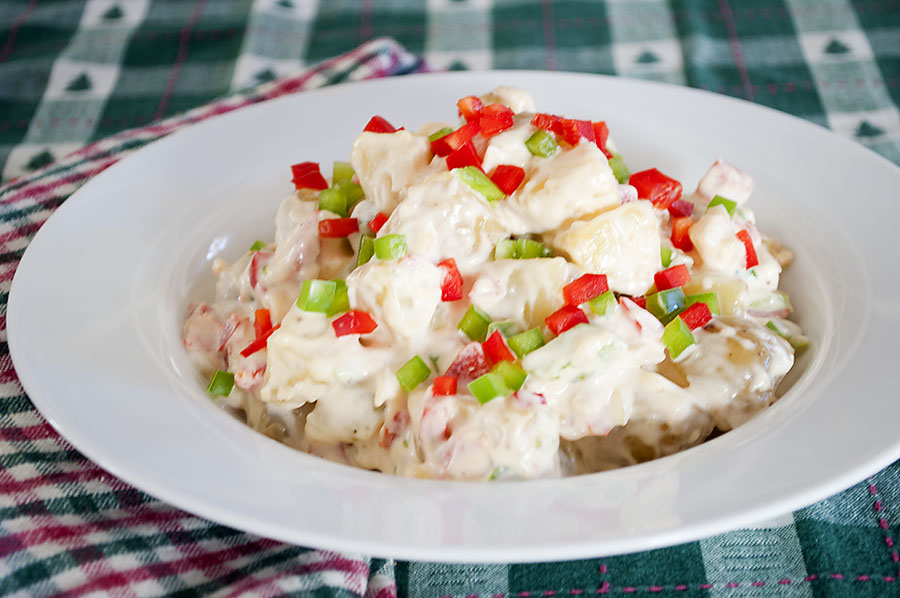 No good barbeque holiday feast would be complete without a good potato salad accompaniment.  This one uses baby Yukon potatoes for ease of preparation and red and green peppers to give it a festive touch.

2 lbs. baby Yukon gold potatoes

½ red pepper, diced plus extra for garnish

½ green pepper, diced plus extra for garnish

½ sweet onion, diced

1 ¼ cups mayonnaise

¼ cup horseradish sauce (not regular horseradish or horseradish cream)

2 tablespoons dill pickle juice

1 teaspoon salt and pepper to taste
Place whole potatoes in a large pot, cover with water.  Bring to a boil and gently boil until potatoes are tender, about 15 to 20 minutes.  Drain potatoes and let cool completely.  When potatoes are cool, cut into bite sized cubes (usually fourths for the small ones and eighths for the larger ones). 

Place cut potatoes in a large bowl, stir in mayonnaise, horseradish sauce, dill pickle juice, onions and peppers.  Add salt and pepper to taste.  Garnish with red and green peppers.

 
BBQ Sauced Brussels Sprouts
Keeping with the red and green theme; Brussels sprouts cooked in bacon fat and glazed in barbeque sauce adds a colorful vegetable side to your meal.

1 lb. Brussels sprouts, cleaned and halved

4 slices bacon, diced

¼ cup of your favorite Pig of the Month BBQ Sauce
Salt and pepper to taste
Place the halved sprouts into a microwave safe bowl; add 1 tablespoon of water, cover and microwave for 5 minutes or until the sprouts are tender crisp.  Drain the water when done.

Meanwhile, in a large non-stick frying pan, cook the diced bacon over medium high heat until crispy.  Drain the bacon on a paper towel lined plate.  Drain all but 1 tablespoon of the bacon fat.  Add the cooked sprouts to the fat and fry until the sprouts start to turn golden brown and char slightly.  Pour in the BBQ sauce and stir until the sprouts are well coated and the sauce is warmed.  Sprinkle in the bacon bites and salt and pepper to taste.  Serve immediately.

 
Desserts
The moment everyone has been waiting for! 
What better way to end the meal than with a beautiful red velvet cake?  Order the Scarlet Velvet Cake for the adults and for the kids order the Whoop-d-doo pies.  To give the Whoop-d-doo pies extra holiday flair, roll the sides in some red and green sprinkles.
Happy hassle free holidays from Pig of the Month and to help reduce the hassle, they are offering 30% off with code CYBMON.
 
Rhonda Atkins is a food blogger for Pig of the Month BBQ and also on her own site. You can read more recipes and ramblings at The Kitchen Witch, or follow on Facebook and Twitter@TKWblog.   Excerpts and links may be used, provided that full and clear credit is given to the author and or owner of The Kitchen Witch. All rights reserved by Rhonda Adkins.
Hassle Free Holiday Meal