3 Easy Plum Cupcake Ideas

16 Dec 2011
The mere mention of plum cupcake ideas flood your memory with the warmth and goodness of the Christmas season.  Therefore,  let your traditional plum pudding take a back seat while you try baking these cupcakes that suffuse plums…
Top 3 Plum Cupcake Recipes For Christmas
1. Sugar Plum Cupcake With Lemon Glaze
These cupcakes are tasty ways of forgetting yourselves. Filled with plums and flavors of the fall, these pint-sized cakes, topped with a zesty lemon glaze, are the perfect pep up for your Christmas celebrations.
2. Apple Plum And Cinnamon Cupcake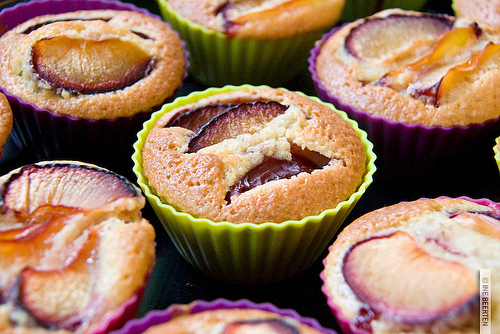 Cinnamon-flavored apple cupcakes always make wonderful breakfast goodies. Here, you have plum as well. These have a rich texture and flavor. Pretty moist and soft, it is ideal as a teatime snack, or can be served warm as a dessert.
Rolled oats, all purpose flour, and chopped fresh plums make up a hearty cupcake. Flavored with orange peel and sweetened with brown sugar, these bite-sized goodies are ideal for lunchboxes as well as parties.
These inexpressibly tasty plum cupcake ideas make them an irresistible bake. So, make your Christmas merrier with them!
Image Credit: socalsustenance.blogspot.com, inebeerten.be, ifood.tv, feedingmaybelle.blogspot.com
3 Easy Plum Cupcake Ideas