Easy Lamb Cupcake Ideas

15 Dec 2011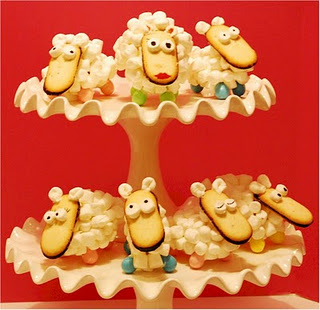 The ideas for making lamb cupcakes  mentioned in this write-up are so easy to throw together. They form  perfect Easter desserts. They are kid-friendly too because of two reasons – they are fun to decorate and fun to eat. Read on to know more about how you can turn simple cupcake recipes into delightful results…
Two Lamb Cupcakes For Easter
1. Marshmallow Lamb Cupcake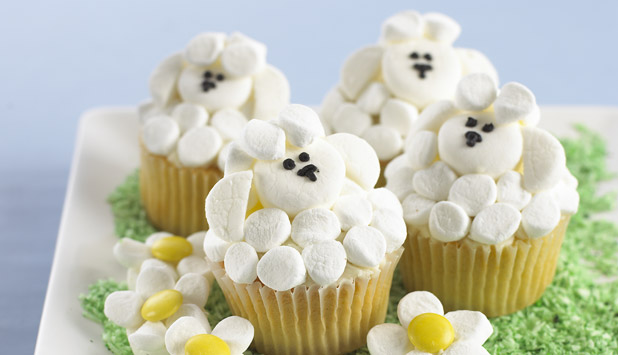 With a chocolate base cupcake and a marshmallow topping shaped into lamb, these are cute desserts for Easter. Top your cupcakes with a thick layer of creamy white frosting. Now, push the marshmallows into the frosting with spaces left for eyes. Now, in the spaces left, press chocolate chips to resemble eyes. Place a chocolate chip in the centre to give the nose. Using a pink edible color, draw the mouth. For serving, arrange the goodies on a tray lined with mint leaves and edible flowers. Place the cupcakes atop the 'grass'.
2. Easter Lamb Cupcake
All you need are cupcakes, mini powdered donuts, green sprinkles, marshmallows, mini oreos, chocolate chips, and heart sprinkle. Choose a vanilla or caramel cupcake as the base. Now, frost the cupcake with a creamy, golden frosting and then embellish them with green hued sprinkles, just to resemble the grass. You can also use green jimmies instead. Now, using a white frosting, fill the donut and now attach a mini oreo to the frosting. Add more frosting to the gel the cookie well. Now, attach one chocolate chip on either side of the oreo to give the ears. Pipe some frosting atop the oreo, on its sides on top of which you need to place her eyes. Place two chocolate chips as the eyes. Attach a pink heart sprinkle to giver mouth. Using pretzel sticks, broken into smaller pieces, give her the legs. Attach the mini marshmallows onto the rear side of the donut for tails. Now, place your donut lamb atop the frosted cupcakes. Your cupcakes are ready.
While these lamb cupcake ideas are perfect choices for Easter, they also form fascinating baby shower desserts. So, try them!
Image Credit: tesco.com, cupadeecakes.blogspot.com
Easy Lamb Cupcake Ideas