3 Easy Walnut Cupcake Ideas

8 Dec 2011
Walnut cupcake ideas yield dense, moist, and equally luscious goodies ideal for adding life to the festivities. The subtle cupcake gets a crunchy texture by the infusion these crunchy nuts in the batter. Give your party desserts a rejuvenating uplift with these cupcake recipes containing walnuts…
Enticing Walnut Cupcake Recipes
1. Coffee Cream and Walnut Cupcakes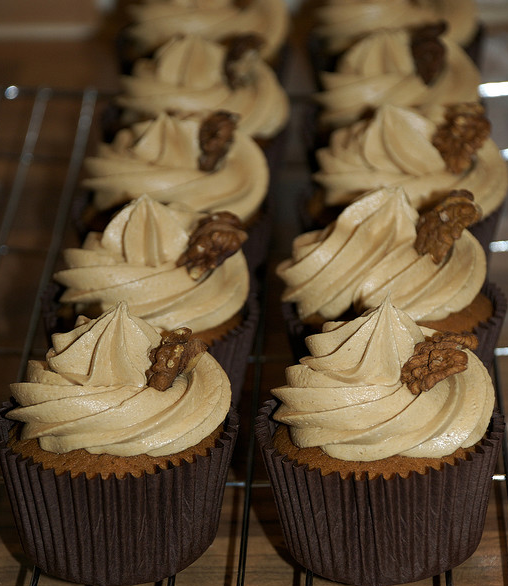 A classic walnut and coffee cake topped with an alluring coffee-rich buttercream frosting in a cup! That is what these goodies are all about! They are perhaps the most sought after delights and taste deliciously good. Yummy, easy, and quick to make, these cupcakes are perfect with a nice cup of latte.
The simplicity of these moist and dense cupcakes reflects the aroma and flavors. Reminiscent of a delightful toffee pudding, these cupcakes rich with brown sugar leave an intoxicating fragrance. This warming and substantial dessert is the best way to warm up your cold winter nights. Top them with a profusely luscious maple butter frosting to get that added kick.
Chocolate and walnut form a delightful combo. Just add a little instant coffee powder to the batter and feel the rich aroma pep up your spirits! Chocolaty and fudgy cupcake with the crunchiness of walnuts, this is an adorable feast for the chocoholics. Serve them fresh from the oven along with a cup of hot chocolate or just top them with vanilla buttercream frosting, drooling caramel sauce. Wow! I bet you would never find a more divinely satiating dessert!
Gear up yourself to relish some warm and delectable sweet fares with these enchanting and tastefully designed walnut cupcake ideas!
Image Credit: thecupcakeblog.com
3 Easy Walnut Cupcake Ideas