3 Easy Peach Cupcake Ideas

7 Dec 2011
The beautiful golden colored peaches share their goodness with the cupcake baked. It is no wonder the peach cupcake ideas give birth to delectable desserts with a very delicate and warm appeal. Moist and slightly peachy, these cupcakes are like the fragrance and sweetness of summer. Take a deep dive into the ocean of cupcake recipes infused with peach...
3 Peachy Peach Cupcakes Recipes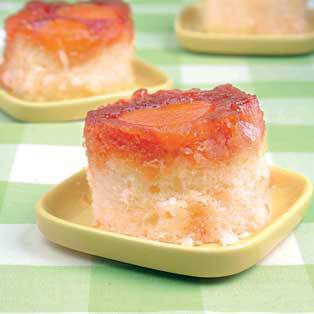 An upside-down cupcake itself is a great delight and when they come with caramelized peaches, they make desserts that are more luscious. It is quite easy to make these also. This simple cupcake comes with a plain cake base. They remain tender and moist due to the juice of the peaches assembled atop them. The cake goes very well with whipped cream, as well as with vanilla ice cream or peach ice cream, both of which accentuate the peach flavors of the cake.
Rustic and moist, these cupcakes, despite having uneven tops, are attractive munches. These baked goodies make you feel nostalgic about your childhood days when your mom used to bake the not so perfect looking, yet amazingly tasty cupcakes. Relish them fresh from the oven with your favorite novel and a cup of peach tea. Top them with a cream cheese frosting, embellish with a fresh green mint leaf, and enjoy your solitude!
If you have ever relished peaches and cream in a bowl along with few pecans, then you would know nothing is more delicious. That is what exactly these cupcakes taste like! The peach juice keeps them so moist that they even taste tender when you relish it the next day also. Just serve them warm for breakfast or with a cup of hot coffee. If you wish to relish those as palate-soothing desserts, then top them with an admirable brown sugar frosting.
All of the abovementioned peach cupcake ideas are as good to eat, as they are to look at. So, spread the warmth and aroma of summer at your fall party with these baked delights!
Image Credit: thecupcakeblog.com, alittleflaky.wordpress.com, tamistalaga.blogspot.com
3 Easy Peach Cupcake Ideas