3 Easy Pasta Cupcake Ideas

7 Dec 2011
Give the cupcakes a new dimension with these pasta cupcake ideas. Yes, I do mean it. They are piquant delights and go well as breakfast items or with your evening tea as a snack. You can even pack one or two of these muffin like  cupcakes for your kid. To know more about the delicious pasta cupcake recipes, you ought to read this blog. Move ahead…
3 Must Try Pasta Cupcakes Recipes
1. Macaroni and Cheese Cupcake
These look more like nuggets. Flavored with paprika, these elbow macaroni savory cupcake is rich with assorted cheeses, including Parmesan, Cheddar, and American. What other dish could be more interesting and exotic for your weekend breakfast or brunch? Serve them fresh with a savory cream cheese dressing to pep up the spirits.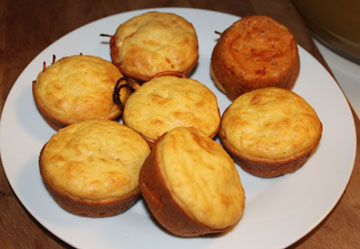 These are easy to make and taste fantabulous. All you need to do is spoon in the cooked spaghetti tossed with eggs and cheese into muffin cups. Add a dose of pasta sauce atop each of muffin cup followed by shredded mozzarella cheese and then bake for about 5 to 7 min or until the cheese melts. Serve them hot to make sure that you have a great day ahead!
3. Fake Pasta Cupcakes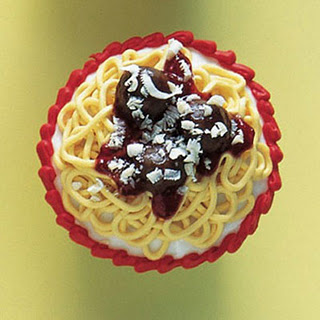 This cupcake actually does not contain pasta, but it has been adorned to look like your favorite dish. Pick your favorite caramel cupcake or chocolate cupcake. Top it with a generous amount of fluffy white frosting. Now, add few drops of yellow color to your white frosting so that it gets the color of spaghetti and then pipe them on to the white frosting like the pasta. Now, warm mixed fruit jam until it liquefies and drizzle few drops atop the 'spaghetti' like sauce. Pick up some dark chocolate truffles and arrange them atop the 'spaghetti' akin to meatballs. Grate some white chocolate over cupcakes for an ersatz Parmesan garnish. Your cupcake is ready!
These pasta cupcake ideas are truly inspiring and taste enchanting. So, try them for your breakfast or plan a pasta party with these delights!
Image Credit: midoriscakeshop.blogspot.com, gardnerh.files.wordpress.com, bakeanddestroy.net, lovestoeat.wordpress.com
3 Easy Pasta Cupcake Ideas