Quick and Easy Holiday Appetizers
6 Dec 2011
Now that Thanksgiving has come and past  it's officially become the Season to be Jolly!  Speaking of jolly, it is also the time of parties and entertainment.   It's tough to be jolly though if you are spending all your time in the kitchen making food and not enough time making jolly.  
I've assembled some of my most popular appetizers for you.  They are seriously so good that people ask me "do you cater?" 
Easy, impressive and party tasted and approved!
Brie en Croute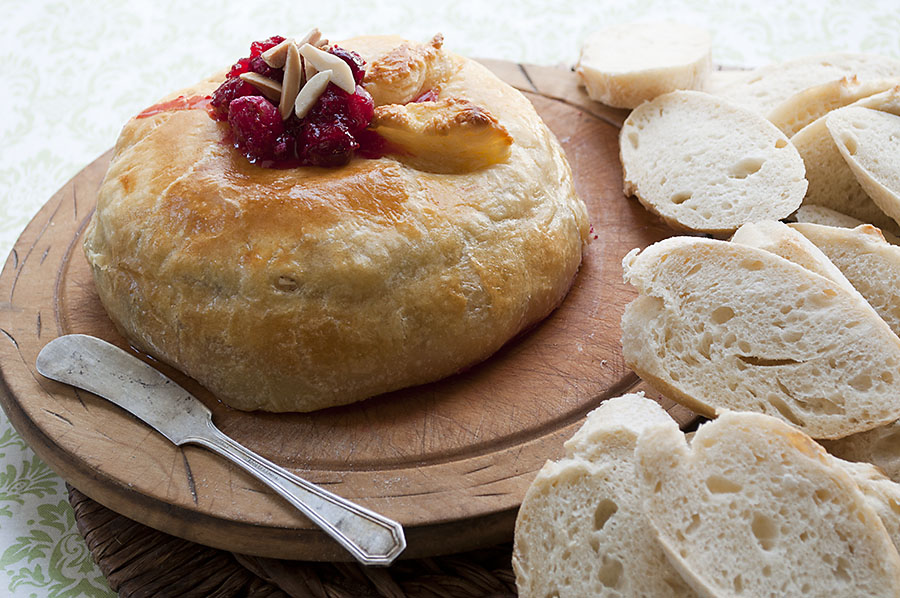 Don't let the name scare you off, this appetizer is easier to make than say!
1 sheet puff pastry, thawed
1 wheel brie cheese
¼ cup whole berry cranberry sauce
2 tablespoons toasted almond slivers
1 egg whisked with 1 tablespoon of water (egg wash)
Preheat oven to 400°F.  Cut brie in half, so it opens like a sandwich.  Lay pastry sheet over a parchment lined baking sheet. Place one half of the brie on the sheet crust side down.  Spread the cranberry sauce evenly over the brie then sprinkle the toasted almonds over that.  Top with the other half of the brie, crust side up.
Fold pastry up over the cheese to cover and trim off excess.  Flip the brie over so the folded side is down.  You can cut the excess pastry into shapes and place on top if desired.  Brush egg wash over the pastry.  Bake for 20 minutes or until the pastry is golden brown.  Let stand for 45 minutes before serving.
Artichoke Fillo Cups
Store purchased fillo cups make quick work of this appetizer and a pretty presentation also.
3 boxes (15 cups each) fillo cups
14 ounces marinated artichoke hearts, drained and chopped
1 cup grated parmesan cheese
1 cup mayonnaise
2 tablespoons sundried tomatoes, chopped
Salt and pepper to taste
Preheat oven to 350°F.  Mix the chopped artichoke, parmesan, mayonnaise, and sun dried tomatoes in a medium bowl.  Salt and pepper to taste.  Fill each fillo cup with the artichoke mixture, place filled cups on a cookie sheet and bake for 8 minutes.
Crab Salad in Endive Boats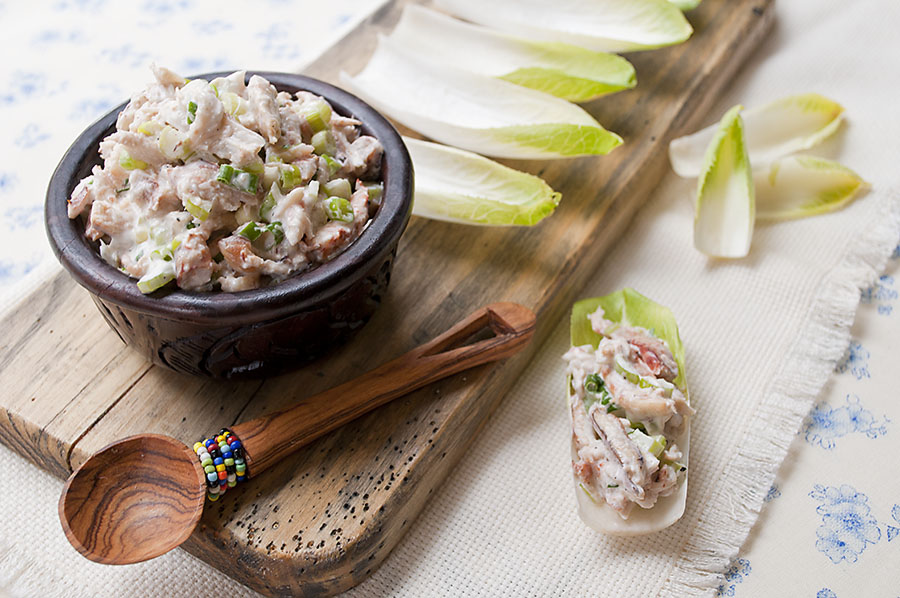 You can serve the crab salad on the side or prefill the endive leaves.   If you can't find Belgian endive, substitute another lettuce leaf or toasted baguette slices.
1 can (8 ounce) lump crab meat, picked over and shells removed
1 cup diced celery
3 scallions, chopped
3 tablespoons mayonnaise
1 tablespoon fresh lemon juice
Salt and pepper to taste
2 heads Belgian endive, leaves separated, washed and dried
In a medium bowl gently mix crab meat, celery, scallions, mayonnaise and lemon juice.  Salt and pepper to taste.  Serve with Belgian endive.
Old Bay Cucumber and Shrimp Sliders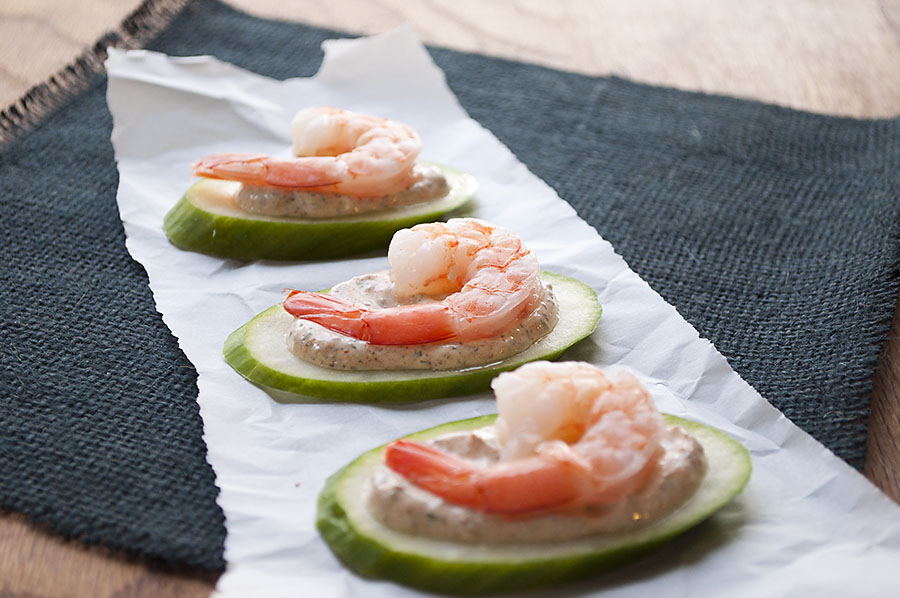 Last party I went to these healthy sliders were the favorite of the night.  No one could figure out what the mystery sauce was, it kept them coming back for more!  Be sure to use the English cucumber, the skin is more delicate and it's seedless, your guest will be grateful.
1 English cucumber, washed and sliced
22 Jumbo shrimp, cooked and peeled
1 cup sour cream
1 teaspoon lemon juice
2 teaspoons reduced sodium Old Bay Seasoning
1 teaspoon dried dill weed
In a small bowl mix the sour cream, lemon juice, Old Bay Seasoning and dill weed.  Let rest 30 minutes in the refrigerator so the flavors can bloom.  Put a dollop of the sauce on a cucumber slice and top with one shrimp.  Serve immediately.
Caprese kebabs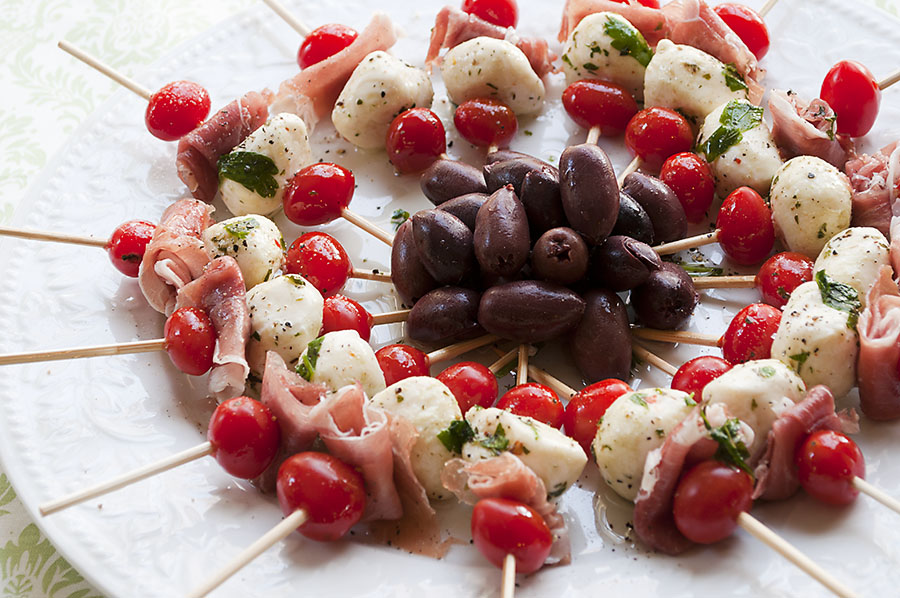 Caprese is an area in Italy famous for its insalata caprese.  A simple salad of tomatoes, fresh mozzarella and basil.  These kebabs are essentially the salad on a stick, and everyone loves food on a stick! 
4 ounces prosciutto slices, cut in half lengthwise
Grape or cherry tomatoes (grape are easier to eat)
Marinated mozzarella balls
Sandwich picks
Roll up each sliced half of prosciutto.  Skewer one tomato, one mozzarella ball and one rolled up prosciutto slice.  Repeat until ingredients are used up.  Refrigerate until ready to serve.
Greek Chicken Kebabs
Speaking of food on a stick, we're heading over to Greece for inspiration for these tasty bites.  If you bought a large container of grape tomatoes they'll fill the bill for both the Caprese and Greek kebabs.  If you aren't up to making the marinade you can substitute Italian dressing, just add some crushed rosemary to it to give it a Greek twist.
1 pound skinless boneless chicken breast cut into 1" cubes
¼ cup olive oil
1 clove garlic, crushed
½ teaspoon dried rosemary, crushed
½ teaspoon dried thyme
½ teaspoon dried oregano
Juice of one lemon and rinds
Salt and pepper to taste
8 ounce feta cheese, cubed
Grape tomatoes
Pitted kalamata olives
Sandwich picks
In a small bowl, mix oil, garlic, rosemary, thyme, oregano and lemon juice.  Add salt and pepper to taste.  Place chicken cubes and lemon halves into a Ziploc bag, pour marinade over top and seal.  Marinate at room temperature for 30 minutes.
Heat a large non-stick pan over medium high heat.  When the pan is not dump all the chicken and marinade into the pan.  Cook until the chicken is done, stirring occasionally, about 15 minutes.  Let cool.  When chicken is cool enough to handle, skewer olives, chicken and finally a feta cheese cube.  Serve immediately.
Rhonda Atkins is a food blogger for Pig of the Month BBQ and also on her own site. You can read more recipes and ramblings at The Kitchen Witch, or follow on Facebook and Twitter@TKWblog.   Excerpts and links may be used, provided that full and clear credit is given to the author and or owner of The Kitchen Witch. All rights reserved by Rhonda Adkins.
Quick And Easy Holiday Appetizers