3 Easy Fish Cupcake Ideas

6 Dec 2011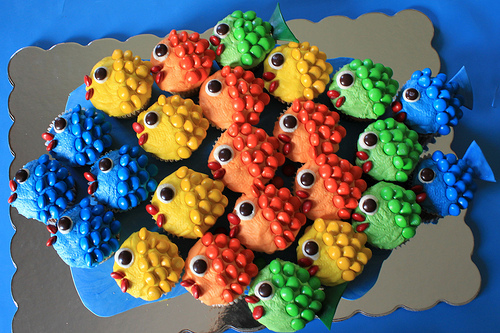 A fish cupcake is perhaps an idea which will enchant the little guests at your kid's birthday party. They can just gel perfectly with any water-based theme. And, with lots of variations available plus the hassle-free serving options make the fish cupcake ideas a hit. This blog contains some interesting ways to transform a simple cupcake into a fish one!
3 Interesting Fish Cupcake Ideas
1. Fish In The Lake Cupcake
These cute little goodies are alluring. Make a batch of chocolate cupcakes. Prepare a luscious cream cheese frosting and then add few drops of blue food color to it, so that it resembles the color of water. Frost your cooled cupcakes with these icing and then, pipe on the image of a cute little fish atop the frosting. Or, if you have poor skills with decoration, then pick up few fish-shaped cookies and use them to top frosting. Sprinkle a few dark chocolate chips also to enhance the appeal.
2. Fish Cupcake
Cupcakes in the shape of fish! That is what exactly these cupcakes are. A fun-filled and easy to make cupcake, these are crowd pleasers as well. You can use a cake batter of your choice – vanilla, chocolate, or even butterscotch. The next is the most important step. Decorate the cupcake with a bright colored frosting. Now you can give the fish tail and fins using a candy which has the same color as that of frosting. Using a dark chocolate frosting, outline the eyes, gills, mouth of the fish. Your fish cupcakes are ready to be served.
3. Fish Candy Cupcake
This is the easiest of the fish cupcake ideas. Choose a chocolate cupcake and frost it with blue-color added buttercream frosting. You can pick a candy fish or gummy fish and then use them to top your cupcake. These, along with being the simplest and quickest way to come up with desserts for a fish-themed party, will also give the kids a chance to munch on more than one goodie. Top them with a shark for added appeal.
Now that you have some exciting fish cupcake ideas in your hand, plan for an ocean or fish themed party! Nevertheless, these are perfect munches for a pool party also! So, are you thinking about them?
Image Credit: pabakery.com, mikeandcaliknape.blogspot.com, cupcakestakethecake.blogspot.com, thecupcakeblog.com
3 Easy Fish Cupcake Ideas