5 Easy Almond Cupcake Ideas

5 Dec 2011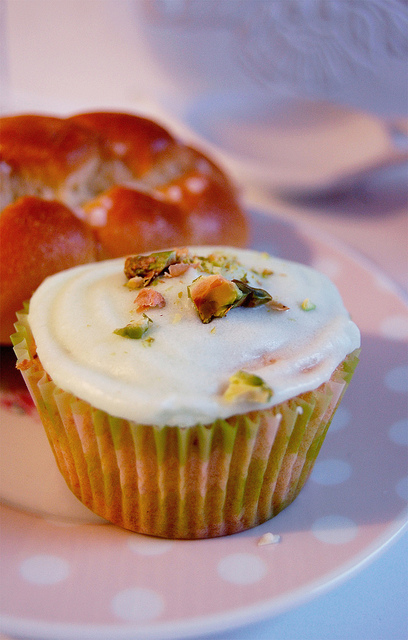 Moist and delicious, the delicacy of an almond cupcake is beyond the explanation of words. The richness of the flavor rendered to the delicate bite-sized goodies by almond goes perfectly with a chocolate frosting for a classic dessert. Learn more about some delightful almond cupcake ideas with this write-up.
Top 5 Almond Cupcake Recipes
The pound cake like densely rich pint-sized sweet fares reflect the distinct flavor of almonds. The ground almonds give these cupcakes a rich flavor and a nice moist crumb. While they look cute and pretty and do not require any special frosting, you can think of various permutation and combinations of frosting choices for regal dessert options.
A moist and creamy buttermilk-flour cupcake, they bring in the taste and fragrance of apples and almonds with them. A subtle snack ideal for tea and parties, they make a great dinner dessert with whipped cream. These desserts are mildly sweet and hence, you can add to the sweetness with a generous spread of almond buttercream.
3. Chocolate Cupcake With Chocolate Almond Frosting
The decadent chocolate cupcakes are luscious bites. Made with all-purpose flour and unsweetened cocoa, these cupcakes themselves make great desserts. The combination of chocolate and almond in the frosting is mesmerizingly heavenly. The frosting accentuates the creaminess of cupcakes, making them the perfect entertainers.
Low fat delicious treats, peach and almond cupcakes are great for summer. These light, moist, and subtly sweet delicacies make a perfect lunchbox goodie as well as a perfect complement to an afternoon tea. Use a white chocolate frosting or a peach frosting, if you wish to for an enriched dining experience.
A moist and dense cupcake, it tastes fantastic straight from the oven. While you can relish simple snack that would be perfect with a cup of hot tea, they also taste marvelous with a generous amount of butterscotch ice cream on the top.
Now that you have quite a few easy almond cupcake ideas, you can try them for the weekend! Have a blast at the party with these delicious treats!
Image Credit: atebyatescrapbooking.wordpress.com, cookingcrave.blogspot.com, thecupcakeblog.com
5 Easy Almond Cupcake Ideas