5 Easy Blueberry Cupcake Ideas

29 Nov 2011
The dark blue colored blueberries are wonderful additions to cupcakes. Brimming with the goodness of berries, these cupcakes fill you with the healthy flavors of spring with each bite. From the classic muffin-like cupcakes to the exotic ones with various frostings, you have countless blueberry cupcake ideas. Here are some of those…
5 Must Try Blueberry Cupcake Ideas
Blueberry Cupcake With Cream Cheese Frosting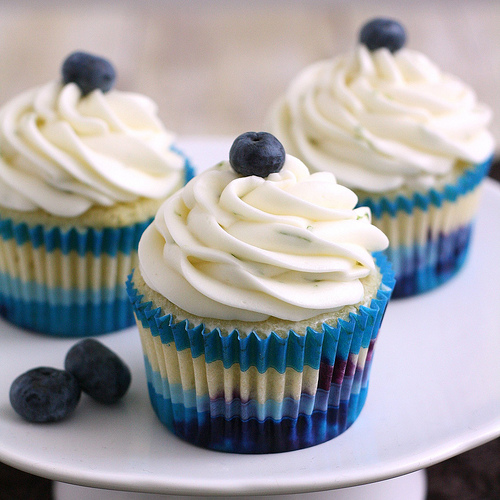 The blueberry cupcake is rich in taste as well as moisture. A classic recipe, the richness of these warm goodies is enriched by the presence of delightful cream cheese frosting. Add a few drops of rich violet color to reflect the intense flavor of these delights. Dress them up with sprinkles to make the perfect celebration desserts!
Flavored with coffee, these tender blueberry cupcakes with a crumbly top are adorable fares. Mildly sweet, the fresh flavors of blueberries burst in your mouth. These goodies get a royal touch up when you embellish them with a streusel topping. These cupcakes are so good that they can assure you of a hit brunch party.
The tangy orange zest and the fruit orange juice blend with the blueberries giving rise to a natural sweet-filled aroma. The good news is that these moist cupcakes tend to remain velvety and soft even if they are left overnight. So prepare them the previous night, and just warm them before you serve. While these are great accompaniments for tea and breakfast, they are ideal lunchbox companions also.
These are soft and tender corn cupcakes with an adorable blueberry flavor. The mildly cornbread cupcakes set off the blueberries perfectly. Lighter and healthier, these cupcakes are ideal lunchbox and afternoon tea companions. Transform them into mesmerizing desserts with a generous topping of peanut butter sprinkled with caramelized nuts.
This is a delicious twist to the classic blueberry cupcakes. Light and tasty, these blueberry cheesecake cupcakes are always great for an occasion. Kids go nuts over them. Embellished with a delectable chocolate cream cheese frosting swirl and few fried nut pieces, these are sure to boost the festive spirits.
These easy blueberry cupcake ideas are so versatile that they gel perfectly with all the occasions. So, celebrate each and every moment of your with these adorable goodies!
Image Credit: tocatchacook.blogspot.com, fondlyoptimistic.blogspot.com, easilyglutenfree.wordpress.com, foodnotebook.blogspot.com, cupcakestakethecake.blogspot.com, thecupcakeblog.com
5 Easy Blueberry Cupcake Ideas