5 Easy Pumpkin Cupcake Ideas

24 Nov 2011
A pumpkin cupcake is definitely an appealing Holiday dessert (be it Halloween or Thanksgiving). The fiber-rich, yellow hued ripe pumpkin renders a pretty color to these cupcakes, which, undeniably is an eye candy. To add to the luxuriousness of flavor and visual appeal, you can also use toppings. Be it just the simple cream cheese frosting or a heavenly chocolate frosting, these pumpkin cupcakes are surely delicious feasts. Here are some interesting and easy pumpkin cupcake ideas...
5 Curiously Easy Pumpkin Cupcake Ideas
Jack O Lanterns share a very close association with Halloween and when they are introduced as cupcakes, they are sure to grab the center light at the celebrations. These pumpkin-based and pumpkin-frosted cupcakes come with contrasting black licorice eyes. Curiously looking, deliciously tasting, there is no reason why you should exclude this dessert from your fall party menu.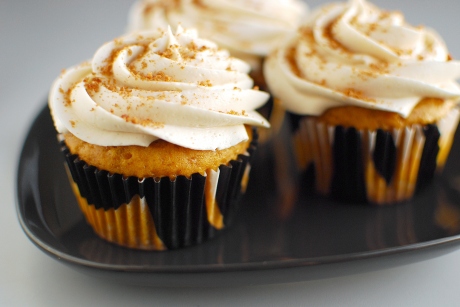 Eat it right out of the oven or just embellish to transform it into a fanciful dessert! Either way, these delightful personal cheesecakes taste heavenly, especially if you relish them with whipped cream. The richness of wistful cheesecake and spiciness of pumpkin come together in the bite-sized cupcakes, making them irresistible treats.
Pumpkin Cupcakes with Caramel Frosting
Moist and palatable pumpkin puree gels perfectly along with the flavors of ground cinnamon, ginger, and cloves, resulting in some wonderful sweet fares. Frosted with a honey-flavored white cream cheese frosting, the pumpkin cupcakes make perfect choices to spice up your Halloween. Make sure that you add some sprinkles to the frosting for some alluring goodies.
Baked with a tempting streusel topping, these pumpkin pecan cupcakes taste great with a cup of hot coffee, pumpkin spice latter to be specific. These cupcakes are not just festival delights, but can easily be tucked into lunch boxes.
These cupcakes allow you to enjoy goodness of whole-wheat flour and pumpkin with the sweetness of honey. The walnuts and plump raisins do much more than enhancing the appeal of these wholesome goodies. While these are ideal treats for breakfast or brunch, these can be converted into attractive desserts for a party if frosted lavishly with chocolate ganache or peanut butter frosting.
It is now time to party! So, what are you waiting for? Pick your favorite from the above mentioned pumpkin cupcake ideas and add a new zing to your life.
Image Credit: cakecentral.com, tahinitoo.wordpress.com, leapoftaste.wordpress.com, veglicious.blogspot.com, blueapron.files.wordpress.com, paisleypetalevents.com
5 Easy Pumpkin Cupcake Ideas