5 Easy Banana Cupcake Ideas

22 Nov 2011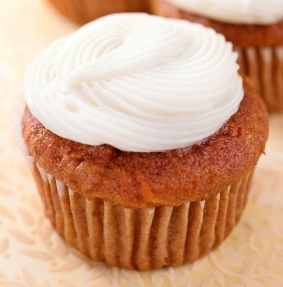 Banana cupcake ideas may not be very conventional ones, but are surely crowd pleasers. While they share a close resemblance to muffins, they are much softer and crumblier. Light and fluffy, banana cupcakes make delightful desserts with cream cheese frosting. You can choose between a caramel frosting or chocolate frosting to render a magnificent touch to a humble cupcake. Here is your rendezvous with some easy cupcake recipes…
Best Ever Banana Cupcake Recipes
The magnificent banana cream pudding blends in an elegant way with vanilla and wafers, ensuring that the result is a luscious one. These super moist cupcakes, enriched with cooking cream, are comfort foods soothing your palates. Serve them fresh and warm with crushed wafers atop them. Add a touch of luxury, for a special occasion, with a generous topping of Chocolate Ganache and few pieces of walnuts.
Nutritious and moist, these banana  oatmeal cupcakes are delicious breakfast fares. While quick oats render a remarkable texture to these healthy cupcakes, banana retains the moisture. These simple, yet enticing cupcakes do not require any frosting as such. If you wish to serve them as lush desserts, then you can choose a caramel frosting or coffee cream cheese frosting.
Banana Chocolate Cupcakes With Maple Walnut Cream
These wonderful banana and chocolate cupcakes are ideal lunchbox companions. The chocolate chips sown atop each of the cupcakes render a mesmerizing aroma by evenly stretching the cupcakes. They just taste as delicious as they smell. These cupcakes, when iced with delicate Maple Walnut Cream swirls, give you a chance to indulge in a divine dining experience.
Rich with goodness of apples and bananas, these cupcakes are easy to make and tastes wonderful. These moist cupcakes make delectable desserts when topped with browned butter frosting and embellished with caramelizes walnuts and cashews for that added crunch.
Banana Walnut Cupcakes With Peanut Butter Frosting
While you cannot classify them as a healthy product, these are sure ways to make your little ones eat bananas. Make them even more attractive by topping it with a generous amount of lustfully brown and creamy peanut butter frosting.
These five banana cupcake ideas are not just party desserts, but are excellent goodies to ignite a romantic atmosphere. So, which one are you going to try to enchant your partner?
Image Credit: thecupcakeblog.com, eatfordinner.blogspot.com, abakernamedsean.blogspot.com, goodthymesandgoodfood.com, tailormadelifeandcupcakes.wordpress.com, ifood.tv
5 Easy Banana Cupcake Ideas