Top 5 Las Vegas Street Food
21 Nov 2011
Las Vegas, which is known across the world for its casinos and nightlife, is also quite popular as the destination of some really cool street foods. One thing you will notice about this place is that it has so much variety of food items that travelers will be able to experience the best dining experience. The food is so versatile that it has the potential to satiate a royal family, at the same time fit into a pauper's pocket. Here are some of the fantastic Las Vegas street food fares…
5 Palate Teasing Las Vegas Street Food Delights
1. Bao
Also known as nunu, pau, pow, and bāozi, this is a steamed dish. Filled with bread or bun, this dish hails from the Chinese cuisine. Available in a plethora of delightful fillings, you will be astonished to find that bao is available with both vegetarian and meat stuffing.
2. Hawaiian Shaved Ice
True to its name, this street food has come from Hawaii. While the shaved ice is available in authentic traditional American flavors, you can also check out for flavors imported from Hawaii as well. Check out for mango, lychee, or even passion fruit and relish it with the wonderful vanilla ice cream.  
3. Korean Tacos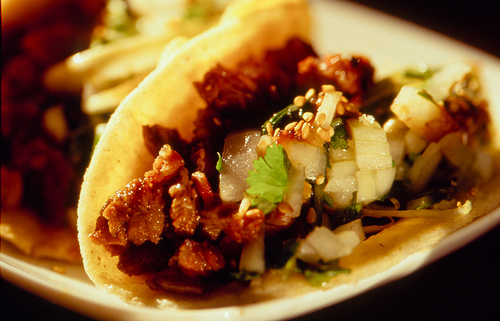 This is a fusion of the Mexican and Korean cuisines. This Las Vegas street food comes with the authentic Mexican corn tortillas are served with the Korean stuffing, bulgogi to be more specific. Check out for the Mexican guacamole to add to the flavor and taste!
4. Pretzels
Be it the crispy and crunchy ones or the soft, chewy ones, these delicious pale golden brown colored street foods are truly interesting. Available more commonly in the shape of knots, these biscuit-like street fares are available in sweet and savory variants.
5. Ice Creams
The frozen, sweet desserts are street foods relished by everyone alike, irrespective of age, gender, or nation. The summer coolers are available in scores of flavors, including the classic ones such as vanilla and chocolate and exotic ones such as lychee and almonds.
While Las Vegas is one of the most popular last minute travel destinations, you do not have to worry about dining because the Las Vegas street food delights are sure to take you by surprise. So, enjoy!
Image Credit: delicious-chocolate-icecream.blogspot.com, driedsweetpotato.blogspot.com, ifood.tv, whats4dinnertonite.files.wordpress.com, judefoodlife.blogspot.com, 1918vintage.wordpress.com
Top 5 Las Vegas Street Food