Top 10 Caribbean Street Food
8 Nov 2011
Street food is a quintessential part of classic Caribbean cuisine. If you have ever been to the Caribbean Islands, you would have noticed the heavy crowd of locals and tourists around a jerk shack or a roti cart. Cheap, delicious, and healthy, the Caribbean street food delights offer a quick sneak peek at the food culture of this island cluster. Take a journey down the lane of some tasty delights with this blog.
10 Must Try Caribbean Street Food Delights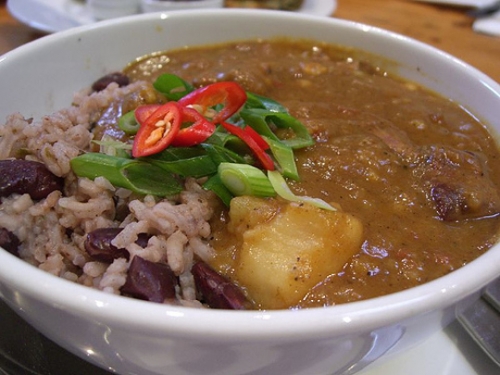 A blend of Indian and Jamaican cuisines, this dish is a delightful mix of chopped goat meat, peppers, and curry powder. An aromatic stew, the dish is omnipresent in the streets of Caribbean. Just take care of the bones while you relish this piquant Jamaican delicacy.
9. Coconut Water
Tender and pleasant, the sweet juice from the fresh coconut is not much more than a refreshing drink. Available across the street side shops in the Caribbean, this natural drink is healthy and filling as well. You don't have to worry about the calories while you sip your way through this natural delight.
8. Roti
One among the popular Caribbean street fares, it is a reflection of the impact of East Asian kitchen on Caribbean cuisines. Served along with curried chicken or curried goat or other classic Caribbean dishes, this is normally relished as a wrap.
7. Trinidad Doubles
A cheap and staple street eat in Trinidad, this is a very common breakfast affair. A thin dough with a filling of chickpeas makes for a filling treat to keep yourself away from the hangovers during the Carnival.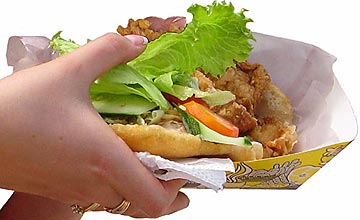 Also called as Shake and Bark, this sandwich can be found in plentiful amounts on the Maracas Beach. Deep-fried young shark meat is served on bun with a wide assortment of toppings, from simple to exotic ones.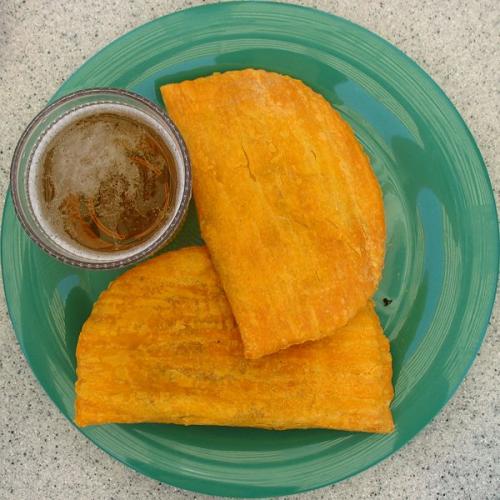 You can see them in abundance in the hands of Jamaican street vendors. Semisweet, half moon shaped patties, these come with dough wrapped around profoundly spiced meat. However, there can be a difference in pricing. Hence, watch out for the best possible deal, without missing the flavor!
This is the authentic Jamaican street food; you will be able to find them in abundance in the roadside stands as well as beach huts located across the Islands. A rich, piquant dish slathered with assorted spices, it is a treat for spice lovers.
3. Aloo Pie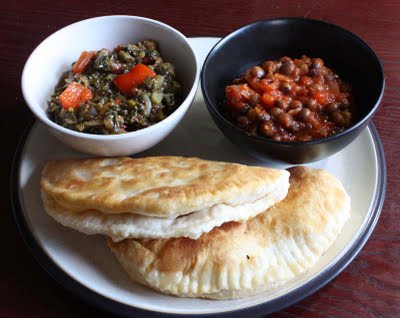 This is a cross between Indian and Caribbean cuisines, and the name itself denotes that. You can consider this as the Caribbean Samosa. A fried delicacy, it commonly comes with fillings made from chickpeas and green peas. It is quite often served with sour and sweet dipping for added taste.
2. Chicken Souse
If you are experiencing a hangover after a crazy night out, then look out for this comfort food. A classic Bahamian dish, it is normally available with Johnnycake or grits and bread. Add a dash of lime for enhanced taste.
1. Sno-cones
Aavailable in assorted shapes, flavors, and colors, sno cones aka snow cones are the best escapades from the scorching heat. Never stick on to just one!
This is a short preview of the Caribbean street food delights. Every food aficionado ought to explore the streets of Caribbean to know more about its wonderful treasures.
Image Credit: ifood.tv, abigeeth.blogspot.com, craigsgrapeadventure.blogspot.com, amazing-trinidad-vacations.com, allotment2kitchen.blogspot.com, livingelpaso.wordpress.com, ifimages.com
Top 10 Caribbean Street Food