Fat Tuesday Dessert Ideas For Diabetics
31 Oct 2011
Having diabetes need not mean you forego sweets completely, especially when it is celebration time. There is no better way to celebrate Fat Tuesday — the day before lent — than mouthwatering desserts. Never mind if you are a diabetic, even you can take the pleasure of digging into the delectable desserts sans any qualms. Just replace the sugar with natural sweeteners or artificial sugar substitute and cut down on the calories and carbs and there you have a delicious low fat, low GI, low sugar dessert to hog in to. Below listed are some incredibly tasty and healthy Fat Tuesday dessert ideas for diabetics, so let the good times roll.
Healthy Fat Tuesday Ideas for Diabetics
Bread Pudding with Caramel Sauce
You can prepare this sugarless delicacy pretty much anytime you please. All you need is fresh loaf of bread, low fat milk, unsaltened butter, raisins, apples, and eggs. Spices like nutmeg and cinnamon add extra punch to this delicacy. Substitute the sugar in the pudding and caramel sauce with maple syrup or Stevia and you are done.
What Fat Tuesday celebration is complete without King cake, which is usually the spotlight of all feasts and banquets? However, to make it more dessert friendly, just skip the sugar coating and overly sweetened filings and use a low fat, no-sugar filling instead.
A crispy, crunchy nut filling sandwiched between a sweet potato mixture and pie makes this Fat Tuesday dessert a win-win one. Stick to molasses instead of sugar and use low-fat dairy products and you will have pralines fit for any diabetic.
Packzi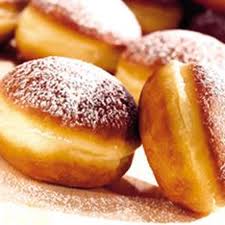 Packzi or Polish donut is a luscious indulgence for your sweet tooth. Never mind if you are a diabetic, you can always get the most out of this donut just by switching on to some artificial sweeteners and topping it off with natural maple or apple syrup.
These delightfully delicious Fat Tuesday dessert for diabetics is sure to get all sweet lovers begging for more.
Image Credits: jerzygirl45.wordpress.com, bigpartiessmallspaces.com, alocalthing.wordpress.com
Fat Tuesday Dessert Ideas For Diabetics