Diwali Dessert Ideas For Diabetics
Diwali is incomplete without lights, firecrackers, food, and of course, desserts and it would be sheer torture to deprive anyone, more so a diabetic, of the sheer bliss of gorging onto sweets. However, don't despair! Never mind if you are a diabetic, even you can get a taste of Diwali sweet treats by indulging in low-calorie,  sugar free desserts that will save your cholesterol as well as glucose levels from going haywire. For inspiration on diwali dessert ideas for diabetics, read on.
Healthy Diwali Dessert Ideas For Diabetics
What celebration is complete without 'ras malai', a milk-based Indian dessert that comes loaded with flavored milk, soft, chunky balls of paneer soaked in malai and cardamom. However, if you wish to tone down this dessert to make it diabetic friendly, replace sugar with Stevia and use skimmed milk in lieu of whole milk. Besides being low in sugar and fat, this dessert is high in calcium, protein, and minerals too.
This rich and creamy dessert usually made of rice, milk, and almond, can be totally modified into a low-cal, low-sugar treat by substituting whole milk and sugar with Stevia and skimmed milk instead. Quick to prepare and scrumptious to eat, this dessert is totally festive and makes for a guilt-free indulgence.
Jowar Laddus
Sorghum or Jowar is replete with essential minerals and fiber and is gluten-free too, which makes it the best choice for any diabetic suffering from celiac disease or wheat allergies. Made with Bengal gram flour, sorghum flour, cloves, cardamom, almonds, and sugar substitute, these round balls packs in a healthy, sweet punch.
Pineapple Halwa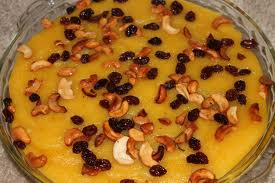 If you too think that carrot halwa is an overdone thing, you can totally skip the tried-and-tested route and opt for something unique and low in sugar and fat as pineapple halwa. The best thing about this scrumptious dessert is that you can use fresh pineapple juice to sweeten it up. Other healthy alternative includes using low-fat khoya and milk adding just half a teaspoon of ghee. Top the halwa with slivered almonds and you are done.
Try making these totally healthy, low-calorie, low-sugar treats at home and enjoy a sugar-free diwali.
Image Credits: ifood.tv, tasty-morsel.blogspot.com, healthy-recipes-vegetarian-recipes.blogspot.com
Diwali Dessert Ideas For Diabetics