Top 10 Spanish Street Food
24 Oct 2011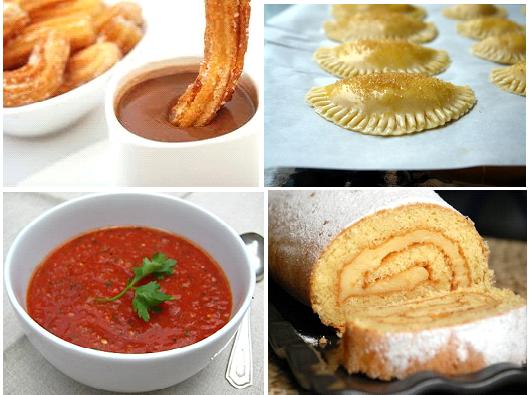 Despite laws that prohibit the sale of street foods in Spain, these delicacies are still much adored and relished by almost all Spaniards. Rooted deep in the culture of the Spain, street fares such as roast chestnuts, churros, tortillas, empanada, etc can be seen across the streets of Spain. Here are the ifood exclusive top 10 Spanish street food delights.
10 Common Spanish Street Food Delights
1. Churros
Known as the Spanish doughnuts, these dough sticks are simple fried pastries, which look similar to stars. Sprinkled with sugar and dipped in chocolate, these crispy delights, come with a chewy inside.  
If you are an ardent seafood lover, then, you should try this spicy suateed shrimp while you are in Spain. Cooked in olive oil and spiced with red chili flakes, these dry prawns taste great when relished hot and fresh.
3. Empanadas
Pastry pies, in the shape of half-moon, are stuffed with tuna or chicken. You may even get empanadas with vegetable stuffing. While most of the times you get the empanadas fried, there are certain streets in Spain where you can get baked ones also.
4. Bocadillos
These Spanish sandwiches are occasional street foods, which you will be able to find across Spain. The authentic version of bocadillos comes with a combo of queso or jamon, or cheese and ham topped on baguette. A very tasty delight, it is a filling meal as well.
5. Tortilla Español - Spanish Omlette
A very simple, yet divinely tasting delight from Spain, these are deep-fried, thinly sliced potatoes. It is either available as Tapa or as a Sandwich. Whichever way you eat them, they are simply delightful eats.
The soup gets its distinctive body and flavor from the blend of its ingredients – lentils that are simmered in a mixture of ham, carrots, red onion, bay leaf, parsley, potato, and chicken broth. Served along with bread, this filling meal will help you to tread as long as you wish to.
7. Patatas Bravas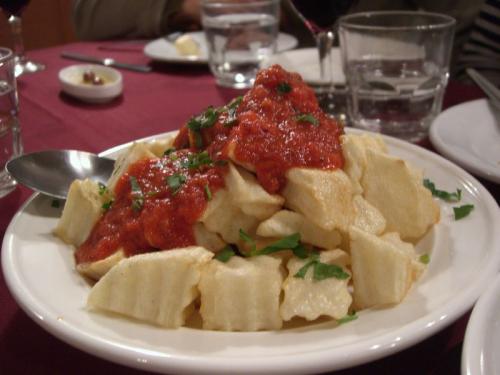 In simple words, this tough-looking dish is simply the potatoes deep-fried until they get a crispy exterior. Served beside Brava sauce, these delights should be relished with your friends and a glass of aerated drinks of your choice.  
8. Gazpacho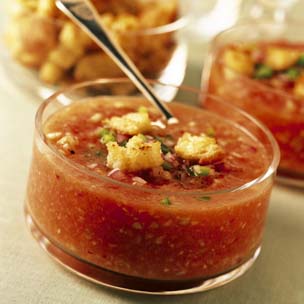 This cold soup, prepared from tomatoes, onion, cucumber, and, peppers, and seasoned with oil, is the ideal way to refresh, cool, and rejuvenate yourself during the hot summer. A creamy soup, it tastes delightful when tastes with bread.
9. Pinchitos Morunos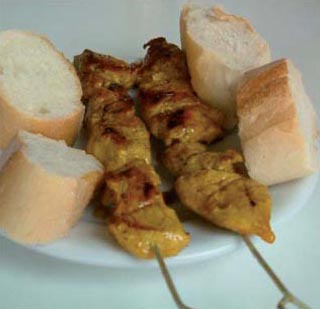 This is a Spanish dish enriched by Moorish spices, rendering the street eat an exotic touch. A tapa relished across Spain, these are small, yet delicious kabobs. Flavored with red chili, coriander, cumin, ginger, and turmeric, the dish is a superb treat for spicy food lovers.
10. Jamon Serrano
You cannot got to Spain and remain without trying the renowned Spanish Ham. Pig legs, which are slat treated, are air dried for 12 to 18 months. These are then flavored and relished by the people of Spain with utmost delight.
Treat yourself to some of the world's most exotic delicatessens with these Spanish street food delights.
Image Credit: ifood.tv, lasrecetasdealberto.blogspot.com, cafeteriasvalium.files.wordpress.com
Top 10 Spanish Street Food