Christmas Dessert Ideas For Diabetics
23 Oct 2011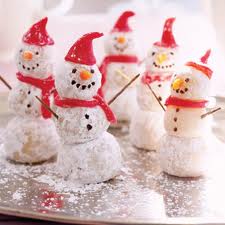 Being diabetic doesn't mean you have to let go of your sweet cravings or settle  for something boring and bland..  Agreed, no dessert can be "healthy" or good for diabetes, but if you must have it, we suggest you scroll down this list of Christmas dessert ideas for diabetics that though not completely devoid of artificial sweeteners, are somewhat sympathetic towards your health .
Diabetic Dessert Ideas For Christmas
This Christmas, give cake and cookies a skip and try a dessert that is low on saccharine and calorie, and high on bananas and chocolate. This gooey trifle overflows with layers of cracker sheets, sugar-free pudding, fat-free milk, light cream cheese, bananas, whipped topping, and pecans, making it a total delight for sweet buffs. However, to maked this decadent essert diabetic friendly, forego the sugar and substitute it with Stevia instead.
If chocolate is what you crave, then nothing can rival chocolate mousse pie on an occasion as special as Christmas. Made with unsweetened cocoa, whipped cream, vanilla extract, artificial sweetener, gelatin, cracker pie, and vanilla extract,this dessert does not take too long to put together and is absolutely foolproof and is perfectly diabetic safe.
If you are wondering what dessert to serve your diabetic guest this Christmas, then almond biscotti is what you need. Easy to make and awesome to eat, this biscotti can be stored up to two weeks if kept in air tight container and can last you until the last day of your Christmas celebrations.  Since it is exceptionally low on sugar, it can be easily opted by diabetics.
4. Baked Vanilla Custard
Rich flavor, silky texture, and ambrosial flavor of vanilla makes this drool worthy custard is a must-have for all. Traditionally made eggs, fat free milk, vanilla, and fruits, this luscious dessert is exceptionally low in sugar and high on taste, which makes it a great choice for diabetics.
5. Pralines
This decadent dessert is a guaranteed crowd-pleaser that is likely to go down well with your diabetic friends too. Pecan or almond, you can always use your favorite nuts to prepare this dish. However, pralines ar exceptionally high on sugar. So incase, you have planned to treat your guests to delicious pralines, make sure you use artificial sweetener.
These desserts are not quite so sinful, being low in sugar, which makes them the perfect pick this Christmas season for the diabetics. So what are you waiting for? Just dig in!
Image Credits: reimannpbevie.blogspot.com, texascottage.blogspot.com, babeinthecitykl.blogspot.com, pralinemovies.blogspot.com
Christmas Dessert Ideas For Diabetics