Top 10 Thai Street Food
14 Oct 2011
While Thailand is the favorite destination of tourists from across the world, it is an adored destination of food lovers as well. Delicious to eat, Thai street food  come in plentiful amounts at a very cheap cost. To be more precise, wherever and whenever you search, you will be able to locate the food. Here are some interesting street eats from Thailand, which you should savor while in the place.
The Must-Try 10 Thai Street Food Delicacies
10. Hoi Tod
This Thai delicacy is a treat for seafood lovers. Mussels are deep-fried in a batter, which contains egg also. It comes at a cost of about 30 baht.
9. Som Tam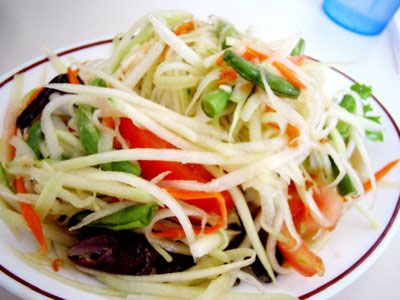 Literally translated as Papaya salad, this is a refreshing, healthy, and tasty dish which you will be able to find anywhere across Thailand. The dish is a perfect blend of spicy, sweet, salty, and sour flavors and comprises tomatoes, green papayas, shrimp, garlic, peanuts, as well as chili peppers.
8. Guay Teow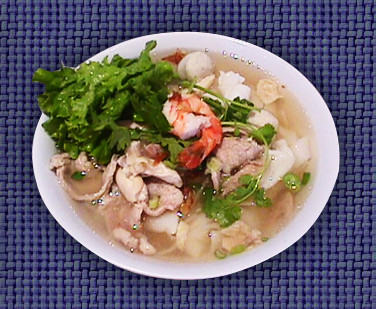 This Thai noodle soup actually belongs to Chinese cuisine. It is prepared with pork, beef, or chicken stock and egg or rice noodles. For added taste, ask for some wontons or fried veggie slices. Spice up the dish with fish sauce, red chili peppers, lime juice, and sugar.  
 7. Pad Thai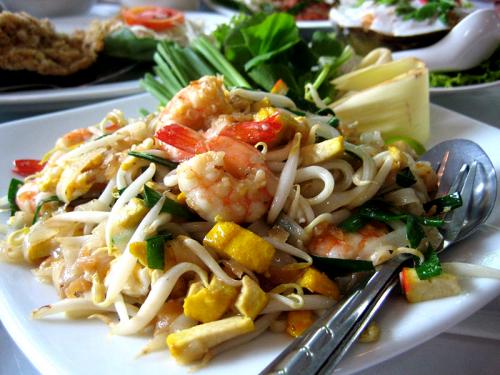 This is one of the most popular Thai noodle dishes. A stir-fried noodle dish with a tangy twist, Pad Thai is enriched by the presence of tofu and shrimp.
6. Ka-Nom Dtoh-Gieow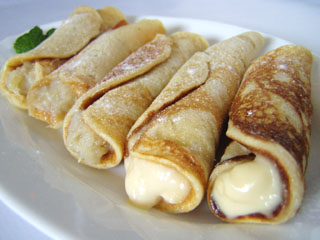 This stuffed pancake is adored by the people of Thailand. The dish is not a native of Thailand, but owes it origin to Japan. While the stuffing varies from cart to cart, you will be able to see sausage, fish, and cream as the most common fillings used.
5. Yam Naem Kaao Tot
This is a spicy deep fried rice ball salad which is served with pork skin. Made with rice balls, ginger, peanuts, minced pork, green chilies, and onion, this street food is usually relished with raw leafy greens.
4. Gai Tod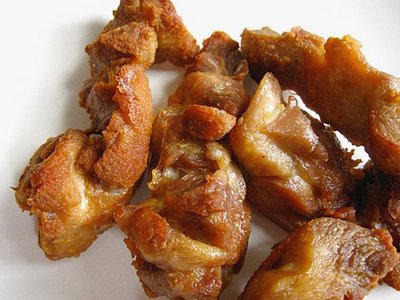 The people of Thailand adore fried chicken, which reasons the popularity of KFC. However, you get fried chicken, at a cheaper rate and with a better taste in the streets of Thailand. Served atop rice cooked in chicken broth, you may even get few slices of hard-boiled eggs with salad cream for a tastier delight.
3.  Gluay Kag
This crunchy fried banana is a dessert that does not require any batter. The street food tastes the best when enjoyed hot with chocolate sauce and vanilla ice cream.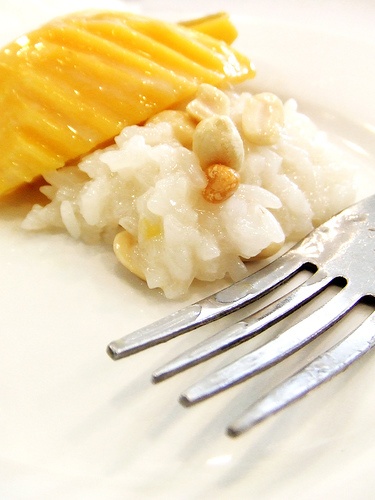 Translate into English and you will see that this dish is Thai Mango Sticky Rice. This desert is one of the most popular street foods of Thailand. The perfect way to satiate your sweet tooth, the dish is prepared with sweet rice, mangoes, and coconut.
1. Moo Ping
These grilled skewers are exclusively meant for pork lovers. However, you may get variants of the grilled meat. Chicken and beef are the two other popular meats used to prepare this grilled, filling delicacy.  
The range of Thai street food items are so vast that words fall short to describe how tasty, yet inexpensive they are. Try them whenever you visit Thai and appreciate and adore them!
Image Credit: messiestobjects.typepad.com, ifood.tv, ricekingdom.blogspot.com, pepsimonster.blogspot.com, en.wikipedia.org, khiewchanta.com, tastythaifood.blogspot.com
Top 10 Thai Street Food