5 Easy Dinner Ideas with Rice

26 Sep 2011
Rice is one of the staple food items in the world and almost every family eats it, at least, once every day. Therefore, it is only right that we bring you some hot and tasty dinner ideas with rice, which help you entertain your family and guests on the dining table.
Classic Fried Rice:
A very common menu item, it can be cooked even with some leftover rice! Use very little butter or oil to cook this and try to use as much vegetables as you can, to make this a healthier option for the family.
Vegetable Lover's Fried Rice:
A variety of vegetables and herbs makes this dish sumptuous! You can prepare the dish within 45 minutes. Mushrooms used in the rice are a rich source of potassium and fiber. You can serve it to kids, especially those who do not like vegetables. Believe us, the trick will work!
Rice casserole:
An addictive, versatile, and wholesome dish, which can be prepared with chicken, mutton or even vegetables like potatoes. Rice casserole is generally considered to be an easier variant of the difficult-to-cook rice pilaf or biryani.
A perfect blend of rice and vegetables makes this dish filling and it is quick to cook – takes just 20 minutes. What's more! The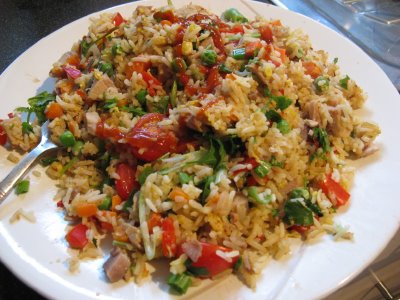 combination of lemon and hot sauce gives this dish a fine aroma with a hot, tangy taste. Lemon rice is also served as a brunch menu item.
Egg is the main ingredient of this rice meal. Boiled or poached eggs give it a unique taste. Egg fried rice can be served with chicken or meat dishes or vegetable side dishes.
These easy rice dishes are just a few among hundreds of rice dishes – you too can innovate your own very special rice dish, but don't forget to share the recipe with us.
Image credits: ask-a-chinese-guy.blogspot.com, lizzieeatslondon.blogspot.com
5 Easy Dinner Ideas With Rice