Spanish National Foods
26 Aug 2011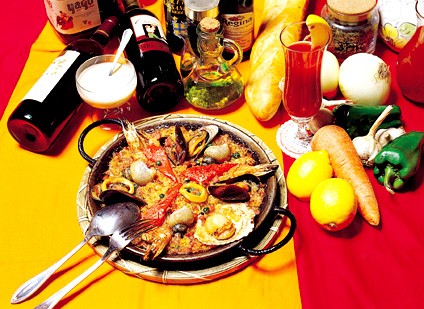 Spanish national food consists of freshly prepared dishes made with locally produced and fresh ingredients such as extra virgin olive oils, wines, cheeses, chic peas, rice almonds, garlic, saffron, and fresh fruit. Add to these more olive oil and wine, very fresh fish, seafood, game, cured hams, sausages like chorizo, chicken and fresh breads and you get a whole list of popular Spanish foods, mildly spiced yet full of flavors.
Spain has a rich and diverse cuisine , reflecting its extensive history and culture. It is a country where each of the 17 Autonomous Communities,  valleys, and villages have a distinct cuisine of its own and takes pride in its way of preparing simple dishes that can provide you with the unique experience of  consuming Mediterranean food.
The only Spanish dishes that may be called  national foods are the Paella, Tortilla Espanola de patatas and Gazpacho. However, a few other dishes have gained popularity all over Spain as well as internationally
Popular Spanish National Foods
                                    Paella de Marisco – Spanish National Food of Seafood Rice

Paella Valenciana originated in Valencia, where villagers mixed rice with snails or game and vegetables and cooked it in a large pot over an open fire. Today Paella is Spain's most well-known national food, where shellfish, seafood, meats and vegetables may be used.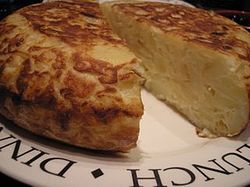 Tortilla Espanola de Patatas - Spanish Omelet- a National Food
There is no doubt about it, the Tortilla Espanola or Spanish Omelet of potatoes and onions is the most commonly served dish in Spain and it is served as a breakfast, a "tapa" or appetizer or dinner in ever café, diner and Spanish home. The Spanish often use it to make bocadillos or sandwiches by placing a piece between two pieces of a baguette. There are many variations of the Spanish tortillas.
                                    National Food of Spain- Gazpacho - Andalusian Cold Tomato Soup.
This refreshing cold soup originated in the region of Andalucia, but is popular all over Spain, especially in summer.
                                              Spanish National Food- Chorizo - Spanish Pork Sausage
Spanish chorizo is a red, pork sausage seasoned with paprika and garlic. It is a staple of the Spanish diet and considered a Spanish national food. It comes in all sorts of shapes and sizes, from fresh and "soft" to semi-cured and even dry and cured.
        Jamón Serrano and Jamón Ibérico – Spanish mountain ham and Iberian ham- National Foods.
Spanish ham is greatly prized as a gourmet food both in Spain and around the world. It is eaten regularly in most Spanish households. In fact, not only is Spain the largest producer of air-dried-cured ham, Spaniards are the number one consumers in the world!
                                  Cocido Madrileño – Chickpea Stew from Madrid- National Food from Spain
Cocido Madrileño or simply cocido is probably one of Spain's national dishes. Cocido is based on a vast cauldron and is prepared with vegetables, potatoes, and meat.
                                    Cochinillo Asado - Roast Suckling Pig- National Food, Spanish
Conchinillo Asado is one of the most typical dishes in the cuisine of Castilla, especially the city of Segovia. It is roast baby pig. Its fatty outside is crisp and perfect for those who like pork rind, while its meat is tender and juicy.
                                                   Empanada  - National Food- Spanish Pie
It is a stuffed bread or pastry from Galicia. The Spanish empanada is typically filled with fish or meat, red or green peppers, and lots of onion.
                                     Tapas – Spanish National Snacks or Finger foods
The little dishes of Spain that are served in taverns all over Spain are also part of Spanish national foods. There is a huge variety of them. Each town may have its own specialty tapa, although some tapas dishes are eaten nation-wide, like olives, ham and chorizo, Calamares Fritos or fried squid, Gambas al Ajillo or shrimp in garlic.
If you have never tried the Spanish national foods, try out the recipes and enjoy them with a glass of Spanish wine.
Image Courtesy - ifood.tv ; en.wikipedia.org
Spanish National Foods