American School Lunch Ideas
25 Aug 2011
Make lunch fun for your kids with these easy, exciting American school lunch ideas and your child won't trade his/her lunch ever again. One of the biggest challenges for every parent is to pack a lunch that isn't just nutritious, but also visually appealing to the eyes. After all, kids love foods that are fancifully decorated and presented. If you want to treat your child to something nutritious and nice, then you have to think beyond just biscuit, mac & cheese, green beans, and milk. Trail the write-up for exciting, kid-approved American school lunch ideas.
American School Lunch
When it comes to lunch, kids love fuss-free, decorated foods. Treat you child to something simple, scrumptious, and very nutritious like tasty tortilla pizzas topped with sausage, cheese, onions, and sour cream. You can also add some fresh fruits, ham, and yummy sauces to make your pizzas nutritious as well as tasty.
Chicken Nuggets and Spinach
Chicken nuggets teamed with spinach are always an instant hit with kids. As long as you don't go overboard on oil and don't pack in extra fats and calories, you can load the lunchbox with as many yummy nuggets and sautéed spinach as your kid would love to have.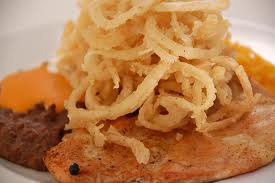 Kids love string cheese, especially the twirled ones that combine two types of cheese. These snacks are healthy and tasty and can be easily tossed into your child's lunchboxes.
Hole Foods
Kids are almost always fussy-eaters. Get them to enjoy their lunch by packing a cinnamon-raisin bagel with a glob of peanut butter and ripe banana. You can also add on a carton of yogurt and a few celery sticks to ensure that your child gets maximum nutrition.
Sandwiches
If you can't think of anything creative, then tossing in triple-dekered sandwiches or interesting shaped sandwiches would ensure that your child has a wholesome lunch. Just pick a slice of the sandwich crust and squeeze in some mayo, cheese, veggies, or chicken, and treat your kids to yummilicious lunch.
These American school lunch ideas are loaded with yummy options to ensure that your kids don't go without lunch during mid-day break.
Image Credits: ifood.tv
American School Lunch Ideas