Pakistani National Foods

25 Aug 2011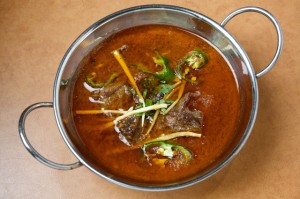 The Pakistani cuisine is known for its richness and flavors. In case you have never tasted Pakistani food, you can guess how it would be from this fact that it is similar in taste, texture and cooking methods to the cuisines of Afghanistan, Iran, India, and Central Asia.
Pakistani food is generally very spicy and highly flavored. The desserts are rich and very sweet. But the most important ingredient of a good meal in Pakistan is its traditional hospitality. The streets of Pakistani cities are a "foodie's paradise."
Here are some of the most popular Pakistani National foods
Nihari is a the most popular meat dish in Pakistan and has its roots in the Nawabi cuisine of Avadh, Northern India. Muslims, usually eat this dish during the holy month of Ramadan early in the morning before sunrise, right after their prayers as a breakfast dish. The dish was brought to Pakistan after independence in 1947 and today, it is regarded as the national dish of Pakistan. It is a spicy delicacy, a slow cooked stew of beef shank. It is cooked overnight resulting in extremely tender meat, including the flavorful bone marrow. Spices are lightly fried in clarified butter/ghee and poured on top and the dish is garnished with coriander leaves, fried onions, ginger juliennes, and lemon wedges. This delicacy is served with side dishes like "naan", cooked brains "Bheja fry", and "Siri paya"  or head and feet of the goat.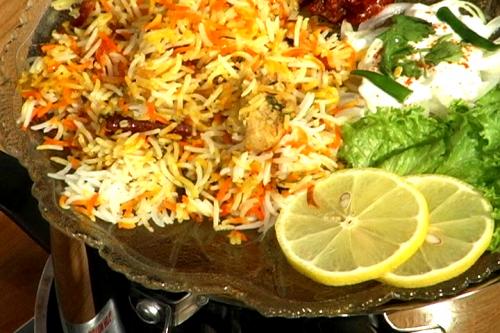 The Pakistani or Sindhi Biryani is very popular, in fact biryani of all types is eaten throughout Pakistan, especially in the cities of Karachi and Hyderabad. The chicken, marinated in curd with potatoes, tomatoes, prunes, is cooked with rice to make this version of the biryani the most popular, though mutton biryani is also loved.
Chapli Kebabs - While all kebabs are an integral part of the Pakistani cuisine, the Chapli kabab is a specialty of Peshawar and is usually enjoyed with naan. It is a spicy, round kebab made of ground beef and cooked in animal fat.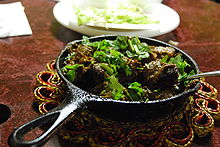 Lahori Karahi is a dry beef or chicken curry made in a "karahi" or cast iron wok, served usually with freshly made tandoori naan.
Haleem and Harisa  are also very popular Pakistani national foods with variations from region to region. Haleem is sold as a street food in Pakistani markets and is a special dish prepared throughout the month of Ramadan.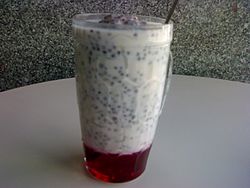 Zarda is a traditional Pakistani sweet dish, made with rice cooked in milk, colored with yellow food coloring and flavored with cardamons, raisins, saffron, nuts, and candied fruit. Zarda is typically served during special relgious occassions and on weddings.  
Gajraila (carrot halwa), Sohan halwa, and Falooda (vermicelli noodle drink) are also associated with Pakistan.
Now that you have a taste of the traditional Pakistani national foods, we are sure you will know what to eat when you are in the country next.
Image Courtesy - en.wikipedia.org; ifood.tv
Pakistani National Foods