English National Foods
17 Aug 2011
English National foods encompass the cooking styles, traditions, and recipes associated with England but also are a part of the wider British cuisine.
Traditional English foods have ancient origins, use high quality natural produce, and include basic ingredients such as meats, eggs, vegetables, fresh-water and salt-water fish, bread and cheese.
Here are the most popular and common English National Foods
Sunday Roast  was once the most common feature of English cooking and a typical meal for Sunday lunch. Traditionally it consists of roast meat most commonly Roast Beef, but lamb, pork and chicken are also very much loved. Potatoes, peas, carrots or brussel sprouts are the most common vegetables served with the roast along with a Yorkshire pudding. Beef is eaten with hot white horseradish sauce and mustard, pork with sweet apple sauce and lamb with green mint sauce. Roast gravy is poured over the meat.
Fish and chips  Fish (cod, haddock, huss, plaice) deep fried in flour batter with chips (fried potatoes) and mushy peas with salt and malt vinegar on the side. Fried breaded scampi and scallops and fishcakes with battered potato slices are also popular. Fish and Chips is England's most common National food, a street or take-away food never made at home and always eaten or "taken-away" from a "chippie" or fish and chip shop. This food is also a part of every restaurant and pub menu in England.
Pie and Mash, a very traditional East London meal, were originally pies made with eels a cheaper product than beef. Today mince beef pies have replaced the eels and have now become the traditional pie and mash that people know that comes with the famous green sauce known as eel liquor sauce or liquor, a non-alcoholic, parsley sauce. Jellied eels are a delicacy often sold with pie and mash.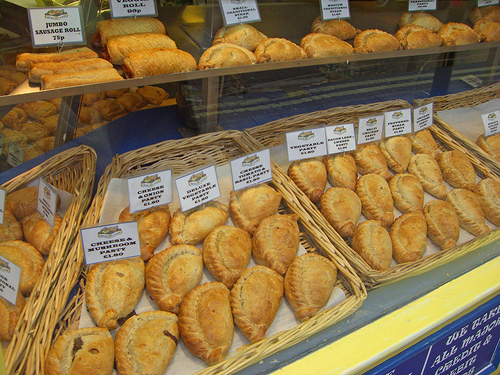 Meat pies, Pork pies and Cornish pastries, made of different types of pastry and filled with chicken and mushroom, minced pork, steak and kidney pie or various other fillings.
Ploughman's Lunch a dish served in pubs, consisting of a piece of cheese, a bit of pickle and pickled onion, and a chunk of bread.
Cottage pie or shepherd's pie is a meat pie, (beef or lamb) with vegetables, topped with a crust of mashed potato. It was considered a poor man's lunch. Lancashire hot pot 
is a similar casserole dish.
Toad in the hole – sausages covered with the same batter used to make Yorkshire pudding and baked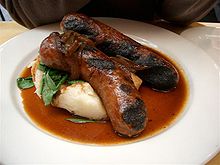 Bangers and Mash are English sausages served with mash potatoes and gravy. Sausages like Lincolnshire and Cumberland, made from fresh meats are most common and are called "bangers," as they used to explode when fried.
Black Pudding is blood sausage made from dried pigs blood and fat, eaten at breakfast time
Bread and butter pudding is the most popular English dessert, a baked bread and custard pudding.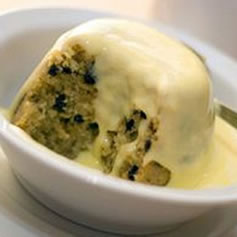 Spotted dick  is an English steamed suet pudding containing currants served with custard.
While these are some of the most traditional British or English National foods the most popular dish in England today is Curry!!
Image Courtesy - en.wikipedia.org; spotteddick.net
English National Foods