What To Do With Leftover Chocolate Quick Ideas
15 Aug 2011
You have enjoyed the whole lot of chocolate that you received on Valentines' Day, but still have some truffles, milk chocolates, and countless hearts. So what to do with leftover chocolate? Ifood has some interesting ideas. Right from  a wonderful dip to a delightful spread for a sweet sandwich to add flavor and crunchiness to your favorite cookies, you can use chocolates in innumerable ways. Read this blog to know more about the various delightful and simple ways to make use of your leftover chocolate.  
5 Interesting Things To Do With Leftover Chocolate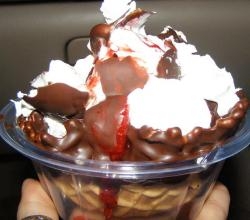 Chocolate-Dipped Strawberry 
Who would not love to indulge themselves in this sinfully rich delicacy? Few fresh or canned whole strawberries dipped in fresh hot molten chocolate and rolled in powdered confectioners' sugar. The mere mention of this dessert is mouthwatering. These chocolate delights make divinely relishing desserts for even the most elegant parties.
Vanilla Ice Cream With Molten Leftover Chocolate Sauce 
Go cool this summer with this simple, yet mesmerizing dessert idea. Every mouth of this exotically tasting ice cream makes you crave for more. Just get a bucket of vanilla ice cream, scoop out into ice cream cups, top with the freshly molten chocolate sauce, sprinkle few roasted nuts and serve.
Bananas Royale With Chocolate Sauce 
If you are wondering what to do with leftover chocolate in an elegant way, then try this. This delightful chocolate sauce can be used as a topping for bananas along with whipped cream. Just add the leftover chocolate to the melted hot mixture of vanilla, cream, sugar, and butter before pouring over bananas to prepare a delicious dessert.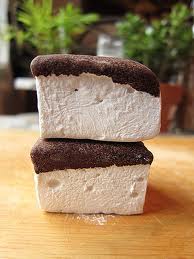 Chocolate House
As kids, you would have read the story of Hansel and Gretel who lived in a chocolate house. Now, you can make your own chocolate house with the leftover chocolate. Just melt the leftover chocolate and build your house. This is an interesting way to make use of the leftover chocolate, which is quite appealing for the kids also.
Just dip large marshmallows mounted on toothpicks in molten chocolate sauce until the marshmallows have an even coating. Roll in powdered confectioners' sugar and allow them cool. A soft, chewy chocolate treat is ready to be savored.
There are hardly people who do not love indulging in chocolates. So the next time you face the question what to do with leftover chocolate, you ought to try these interesting ideas.  
Image Credit: ifood.tv, tonicnotes.blogspot.com
What To Do With Leftover Chocolate Quick Ideas