What To Do With Leftover Dressing Quick Ideas
15 Aug 2011
Some of you would have had leftover dressing that would have left you confused as to what to do with leftover dressing. The simplest and easiest thing that comes to your mind is to throw the leftover dressing. However, there are some interesting and tasty things to do with leftover dressing. Are you curious to know more about the leftover dressing uses? Read on…
5 Interesting Things To Do With Leftover Dressing
Open Face Sandwich With Leftover Blue Velvet Dressing
This leftover dressing forms an interesting spread for your favorite sandwich. Toast the buttered bread slices and spread the leftover dressing above it. Top the dressing with toppings of your choice – sliced roasted chicken pieces, freshly cooked veggies, sprouts, nuts, turkey slices, etc. form good choices for a filling and delicious breakfast.
Leftover Honey-Mustard Dressing Dip
If you have some honey-mustard leftover dressing, then make some French Fries or potato wedges, or any other savory snack of your choice. Serve the snack hot with this leftover dressing garnished with a dollop of cream and mint sprig as a dip. This sweet and savory combination makes for a great appetizer.
Pasta with Leftover Creamy Mint Dressing
You can make use of your favorite creamy mint dressing to enhance the flavor and richness of your favorite pasta. Cook the pasta as usual and just before serving toss the pasta with the creamy mint dressing. Along with adding to the richness of this Italian delicacy, it brings in a freshness which makes the dish more mouthwatering.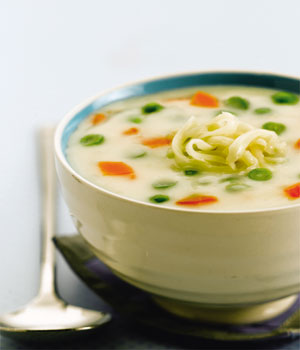 Burger With Leftover Cucumber Mayonnaise Dressing
Add a healthy twist to your favorite chicken burger with cucumber mayonnaise dressing. Substitute your usual spread like cheese or mayonnaise with this dressing. Sprinkle a little red paprika, layer with plentiful lettuce leaves, freshly sliced onions, and tomatoes and serve with hot baked patties.
Cream of Vegetable Soup with Leftover Thousand Island Dressing
If you are confused with what to do with leftover dressing, then try preparing soup. Dilute the leftover dressing with water and allow the mixture to simmer on medium heat for a while. Add freshly cut veggies like carrots, spinach, asparagus, and beans. You may add milk, preferably skimmed, to enrich the soup. Adjust the seasoning as per taste. You can even add deep-fried breadcrumbs when serving at as an appetizer at a party.
The next time you are confronted with the question of what to do with leftover dressing, try these delicious ideas.
Image Credit: nabanitadas81onpage.blog.co.in, homecookingwithsonya.blogspot.com, ifood.tv
What To Do With Leftover Dressing Quick Ideas