Breakfast Vegetable Casserole Ideas
3 Aug 2011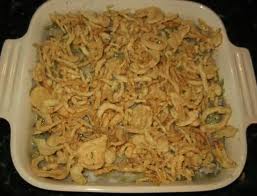 A breakfast vegetable casserole is not just a simple, but a delectable way of starting off a day. Ifood presents a rich collection of easy breakfast casserole ideas, each one unique in its own way. Dive deep into this write-up about some good and tasty breakfast vegetable casserole ideas...
Top 5 Easy Breakfast Vegetable Casserole Ideas
Green bean is very nutritious food item, so it not only delicious but also very healthy. Enjoy this goodness in a casserole in a very effortless way. It is so simple that you have to mix all the ingredients, keeping aside half the fried French peas. Rich with cream of mushroom soup, green peas, beans, and milk, the casserole is flavored by pepper.
The sweetness of the sweet potatoes is enriched in this sweet potato casserole by brown sugar. The mashed sweet potatoes are flavored with vanilla, milk, sugar, eggs, and margarine. You just need to mix the casserole ingredients and topping ingredients separately. Place the topping over the casserole and bake for about half an hour. Add cheese above the mixture for a tastier breakfast.
This is a no-bake breakfast vegetable casserole made with potatoes, ham, bacon, and eggs. An egg, milk, and salt mixture is poured over bacon and potato cooked together. Ham and tomatoes are added and then, the dish is flavored with chives. Serve the casserole hot with cheese, if desired. Fresh spring herbs also bring in an exquisite taste to this simple, tasty breakfast dish.
Good Morning Breakfast Casserole 
Rich with the creaminess of Swiss cheese and cottage cheese, this heavy and filling breakfast casserole is a wonderful beginning for a great day. The flavor of this vegetable breakfast casserole comes from the blend of hash brown and eggs with other ingredients. Flavored with ground black pepper, paprika, and hot sauce, this has the goodness of bacon also.
Enjoy a deliciously spicy breakfast on a lazy morning in an easy way with this delicious bean casserole. Flavored with tomato sauce, chili powder, and green chilies, this casserole has the richness of cottage cheese, Monterey Jack cheese, and sour cream. The healthy aspect of this casserole comes from the presence of tomatoes, green pepper, red kidney beans, and olives.
Eggplant Sausage Casserole 
Herbed with parsley and oregano, and flavored with pepper, this vegetable breakfast casserole comes with the healthy tomatoes and eggplant. Sautéed eggplant slices are cooked with sausage and onion and layered in a casserole along with Parmesan cheese, parsley, and oregano mixture, cheese mixture, and seasoned tomato slices. Add extra Parmesan cheese atop the casserole mixture along with breadcrumbs and dot with butter for tastier and more appealing breakfast casserole.
Make your breakfasts more elegant with these rich and easy breakfast vegetable casserole ideas from Ifood.
Breakfast Vegetable Casserole Ideas