Easy Eggplant Casserole Ideas
29 Jul 2011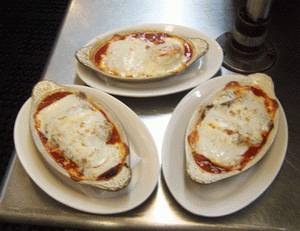 Here are a few easy eggplant casserole ideas that are not only effortless to make but tasty too. Made with simple ingredients, these quick eggplant casserole ideas from ifood are excellent side dishes for an elegant dining experience. To know more on these easy eggplant casserole ideas, read on...
Top 5 Quick Eggplant Casserole Ideas
Beef is browned in garlic and onion and then cooked in a mixture of spaghetti sauce mix, tomato sauce, water, red wine, basil, and oregano. Sautéed eggplant slices are covered with this delectable and aromatic beef mixture. Sprinkle Parmesan cheese atop the easy eggplant casserole mixture and topped with thick mozzarella slices before baking until cheese melts.
This excellent eggplant casserole is made with very simple and easy ingredients. Eggplant is mashed thoroughly before adding to milk-soaked bread, eggs, and cheese. Bake the casserole to golden brown topped with oodles of cheese. For a savory touch, add a dash of red paprika flakes. A dash of lemon juice and few fresh herbs make this simple dish ideal for an elegant dinner.
Simple ingredients make for a great dish. This easy eggplant casserole is the example. Made with eggplant, pork, Creole seasoning, breadcrumbs, and Cajun spices, this baked dish is as healthy as its stupendous taste. A truly heavy meal, serve this main course with a fresh salad. Keep Tabasco sauce or hot pepper sauce handy to warm up the cold winter nights in a fiery way.
Eggplant Tomato Casserole
Prepare something special and tasty for your near and dear ones in an easier way with this eggplant tomato casserole. Deliciously rich tomatoes, crunchy onions, and eggplants are flavored with pepper and salt, and baked. Add buttered cornflake crumbs above the casserole mixture for making it tastier and crunchy.
The name of this casserole suggests how simple and easy this casserole is. You just need to mix cooked and mashed eggplant with egg, onion, salt, garlic salt, pepper, and Worcestershire sauce and then bake to golden brown. Place crumbs and cheese atop the mixture before baking for greater tasting casserole.
Plan a party today and treat your guests to some tastefully easy eggplant casserole ideas.
Image Credit: super-cooking-free.bravehost.com, ifood.tv
Easy Eggplant Casserole Ideas