Easy Ham Casserole Ideas
28 Jul 2011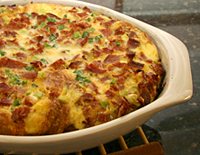 Are you in search for some tasty, yet easy ham casserole ideas? Then, you are at the right destination. Ifood presents assorted quick ham casserole recipes, which are made with simple ingredients and less effort. To know more about the easy ham casserole delights, read on...
Top 5 Quick Ham Casserole Ideas
The blistering taste of this flavorful ham casserole comes from the blend of white sauce, tomatoes, and cheese. Bread toasts are topped with a mixture of eggs, ham, and white sauce seasoned to taste followed by tomatoes and cheese and then baked to golden brown.
Au gratins are great side dishes for an elegant formal dinner as well as for casual, laid back meals. This ham and potatoes casserole tastes simply superb. The ham is flavored with pepper, while cheese brings in a creamy touch. This casserole is sure to be adored by all your guests.
Hawaiian Sweet Sour Ham Casserole 
This sweet and sour casserole is a great choice to entertain your family during holidays. Ham is covered with a mixture of brown sugar, cornstarch, pineapple juice, mustard, vinegar, and water, and baked to golden. The pineapple pieces are added after partially baking the casserole so that the sweetness of the fruit remains intact.
Ham And Potato Casserole 
Do you wish to enjoy a wonderful casserole with fewer efforts? Then, you should try preparing this ham and potato casserole. Mushrooms, onions, potatoes, smoked ham, and cheddar cheese gel with each other in a delightful way, giving rise to a delicious main dish. This casserole tastes even more delicious when served with fresh salad and Tabasco sauce.
The name of this casserole is self-explanatory. Ham, sautéed in a mixture of butter, cream, basil, salt, and pepper, is baked to golden brown with a topping of cheese and breadcrumbs.
These delightful, yet easy ham casserole ideas are so versatile that they fit into any meal with the same ease. So, try it today and have a great meal!
Image Credit: duckies-food-blog.blogspot.com, ehomebody.blogspot.com
Easy Ham Casserole Ideas