552410-barbecued-piggy-scallops.barbecued-piggy-scallopsAre you looking for some scrumptious appetizers for your next Sunday brunch? Try these unique and interesting Scottish appetizer ideas.

 
In Scottish cuisines, appetizers come in a large variety. Some of the famous Scottish appetizers include Scotch smoked salmon, finnan haddie, or haddie stuffed artichokes. Traditionally these appetizers are spicy because of the pepper or other condiments. Let's have a look at how these are made. 
Scottish appetizer ideas:

 
Barbecued piggy scallop is a very yummy Scottish appetizer. For making this dish, you need to cut the bacon rasher and wrap each scallop in half a rasher of bacon. Cooking the bacons over hot coals will result in crispy and golden brown bacon.  Drizzling of butter over the cooked bacon makes the dish absolutely amazing.

 
Stuffed meatballs are the traditional Scottish appetizer, stuffed with miniature balls of mozzarella cheese and ground beef. You can dip these meatballs in the homemade tomato sauce. Season the dish with kosher salt and freshly ground pepper.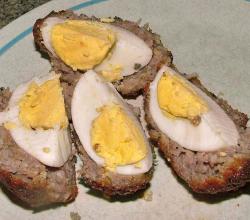 Scotch eggs are the perfect party food which can be prepared at home. It consists of shelled hard boiled eggs, wrapped in a sausage meat mixture. The eggs can be coated in bread crumbs and deep fried. You can serve this wonderful Scottish appetizer with salad and pickles.

 
Being a very filling soup, Scotch soup is usually made with barley, lamb, and few root vegetables. You can include vegetables such as carrots, Swedes, or turnips. Try this Scottish appetizer, especially during winter season.

 
Carse of gowrie fruit salad:
This gowrie fruit salad is absolutely divine! You can make this salad with fruits such as bananas, orange, peaches, apricots, raspberries, and cherries. The syrup is very important for this fruit salad. Prepare the syrup with red wine, lemon juice, sugar along with a dash of sherry. This is the best Scottish appetizer to be served with the topping of whipped cream.

 
So, these are some of best Scottish appetizer ideas. Try these dishes and flaunt your culinary skills the next time you plan a party.
Image credits: www.tomatoesonthevine-velva.blogspot.com, www.ifood.tv, & www.glasgowguide.co.uk