Easy Vegetable Casserole Ideas
28 Jul 2011
Are you looking to make easy vegetable casserole ideas? You will find the most unique and interesting quick vegetable casserole ideas here. Read on to know more about the delectable and easy vegetable casserole ideas.
Top Quick Vegetable Casserole Ideas
Hearty cream of mushroom soup is mixed with milk, pimientos, salt, and pepper and poured over French fried potatoes, green beans, and baked to perfection. Sprinkle onions above the casserole mixture along with lots of cheese for a cheesy crunchy casserole.
Vegetable Whiz Casserole 
A healthy treat for all the veggie lovers, this easy vegetable casserole is herbed with thyme leaves and flavored with pimientos and black pepper. Melted cheese adds to the richness, while toasted crumbs give the casserole a delightful crunchy flavor.
Soybean And Vegetable Casserole 
Soybean is full of protein and when, it is added to vegetables for preparing a tasty casserole, words fall short. Quick, easy, tasty, and healthy, this vegetable casserole is also rich with the goodness of wheat germ. All you need to sauté the onions, add to rest of the ingredients, and bake for just 30 minutes. You can sprinkle a little cheese on casserole mixture for adding to the richness. Roasted nuts along with fresh herbs are also wonderful seasoning ideas for tastier vegetable casseroles.
This vegetable casserole with the richness and goodness of tofu is flavored with assorted spices. Cinnamon, nutmeg, and black pepper gives it a rich aroma, while Parmesan and ricotta cheese enriches the flavor and taste of this delightful casserole. This versatile dish tastes elegant as an appetizer when served with a topping of hot salsa and as a delightful side dish.
Mixed vegetable casserole baked with a creamy, cheesy sauce flavored with mustard, horseradish, and Tabasco is a good choice as a side dish for your dinner party. Cheese-tossed breadcrumbs along with more cheese are spread above casserole mixture before baking the mixture to golden brown. Sprinkle a little Italian seasoning above the hot baked casserole for added taste.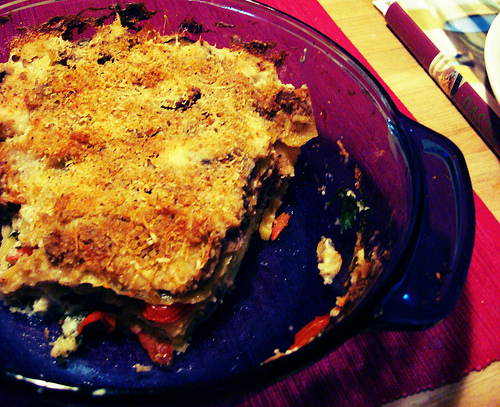 Pasta-Vegetable Casserole 
This vegetable casserole comes with a healthy aspect. Rich with the goodness of vegetables, creaminess of cheeses, and herbed with parsley, oregano, and marjoram, the casserole is a great choice to be included as a side dish in your winter meals. Seasoned with black pepper and nutmeg, this great pasta casserole tastes heavenly.
Broccoli, Rice and Cheese Casserole 
This vegetable-rice casserole is simple and easy to make. Mashed broccoli along with cream of mushroom soup, Monterey Jack cheese, and Cheddar cheese are added to cooked rice before baking to slight brown. Serve hot.
Vegetable casseroles are always a delight to cook and serve. Find an excuse to prepare these tasty easy vegetable casserole ideas and treat your near and dear ones!
Image Credit: myrecipesharesite.blogspot.com, twopeasandtheirpod.com, ifood.tv
Easy Vegetable Casserole Ideas