Aji Menu

28 Jul 2011
An aji menu is a truly exotic menu. "Aji" means chile pepper in Spanish and it is used in many dishes for it adds zing to the blandest of dishes. Here are some great aji menu ideas for you to try.
This dish is a delicious Peruvian classic - somewhat spicy and bright yellow from the popular aji amarillo pepper, and rich from the extraordinary cream sauce made with ground walnuts. This dish is customarily served over rice, with boiled yellow potatoes and black olives. You can find frozen yellow aji peppers at Latin food markets. You can also find jarred aji amarillo paste, which works fine. If you can't find aji amarillo peppers, then replace it with another hot chile pepper and use a yellow bell pepper for color.
Aji Sauce
This versatile, spicy yellow sauce is the perfect accompaniment to roasted chicken, vegetables, french fries, and fried yuca. The star ingredient is the aji amarillo chile pepper, a staple in Peruvian cooking. Look for jarred aji amarillo paste in a Latin food market. If you can't find the paste, you can use frozen aji amarillo peppers. Thaw and cube one pepper, and saute it in olive oil until its tender. Throw the cooked pepper in to the rest of the sauce ingredients and process.
Ceviche Seasoned with Aji Limo
Ceviche is a very easy dish, which can be prepared and served in various styles. In almost every restaurant you will find one version of Ceviche. In its traditional version, You need fresh sliced fish, freshly squeezed lime juice, sliced onions, salt, and aji limo. Sea bass is a favored fish for Ceviche. The fish is typically marinated in lime juice, onions, and chilies. Ceviche pairs well with boiled potatoes or corn.
Slow Cooked Pork Roast with Aji Limo

This dish is relatively simple to make and perfect for the cold winter months as it really helps warm you up. You can make quite a few meals out of this dish, ranging from shredded pork soup, to tacos and simply with beans and rice. When the pork is tender, use 2 large forks to shred the meat to the size that you like, big chunks or smaller shreds or pieces. A mixture of both would be ideal.  Throw in a little extra Aji Limo to the mix as it cools and wonder at the aroma, flavor, and color!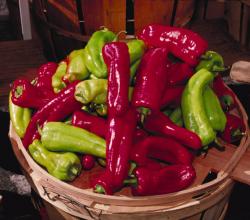 This aji menu is certainly a 'hot' one in every sense of the word. There are numerous kinds of aji peppers available, from fruit-tasting ones to the really hot and spicy ones. So, depending on the dish, select the appropriate aji pepper.
Image credits – ifood.tv
Aji Menu