Easy Corn Casserole Ideas
28 Jul 2011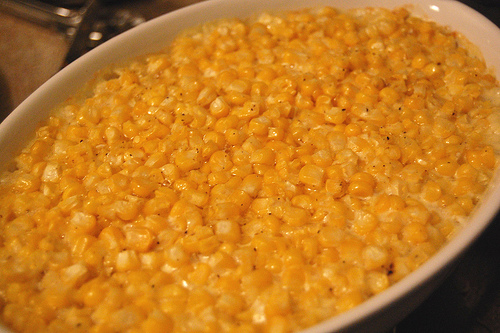 Easy corn casserole ideas are tasty and healthy. The quick corn casserole recipes from Ifood can be prepared without much effort and within your budget. To know more about these sumptuously easy corn casserole delights, read on...
Top 7 Quick Corn Casserole Ideas 
This beef and corn casserole is a delightful combination of beef broth and zesty tomato paste, while taco seasoning enriches the taste of this dish. A layered casserole with a saucy meat topping, baked till golden brown, garnished with corn chips, and served hot makes for a delectable combination.
Cooked rice flavored with onion and celery is mixed with other ingredients including corn and baked till golden brown. While frozen or canned corn is normally used, using fresh corn enriches the flavor and aroma of this tasteful dish. Butter and cheese give the creaminess, while paprika enriches the flavor.
No other casseroled could be prepared in a simpler way than this exquisite corn casserole. Flavored with sugar and eggs, this sweet treat is a great choice to be included as dessert for your dinner party. Choose a low-fat butter or margarine for a healthier choice.
This American casserole gets its taste from a blend of beef with corn muffin mixture and red kidney beans. Flavored by chili powder, sugar, salt, and peppery, this spicy sweet casserole is sure to win the hearts of your guests. Bake the casserole till golden and serve hot with lots of cheese.
Swiss Cheese Corn Casserole 
Corn is mixed with cream, beaten egg, green onions, salt and pepper, and grated Swiss cheese before sprinkling buttered breadcrumbs. The roasted butter crumbs give the casserole the crunchiness, while melted butter makes this French delicacy a melt-in-your-mouth taste. This is a healthy and tasty choice as a side dish.
Corn and mackerel - the combo is not a usual one, but this casserole tastes delicious. American cheese and butter used in the preparation of this easy corn casserole make it melt in your mouth. Serve the golden baked casserole with Tabasco sauce or hot pepper sauce. A garnish of fresh herbs also gives a luring aroma to this side dish.
Do you wish to enjoy the freshness of vegetables in a casserole? Then, try making this tasty corn delight. A very versatile dish made using corn, tomatoes, green sweet pepper, celery, onions, and eggs. The taste of this casserole is enriched by the white sauce. The garnish of fresh parsley renders an aroma, which just lures the eaters to ask for more.
Easy corn casseroles are not always blunt; they taste exotic also. Try these casserole ideas yourself and feel the difference.
Image Credit: ifood.tv, vegancrunk.blogspot.com
Easy Corn Casserole Ideas