Calabash Menu

27 Jul 2011
552312-fresh-calabash.calabashDon't fret while working on a calabash menu. Calabash or bottle gourd is a vegetable very popular in India. It is found mostly in the summer season and is light and easily digested. There is plenty you can do with calabash, it absorbs seasonings and spices easily and has a very subtle taste of its own so the kitchen is your playground when it comes to this vegetable. Here are some great calabash menu ideas.
Koftas are dumplings popular in India. A variety of koftas can be made with different ingredients. The koftas can be fried or baked and are immersed in a rich and creamy sauce. They are rich and very aromatic and enjoyed best with naan bread.
Stir Fry Calabash
Place cubed calabash into an oiled frying pan and add other vegetables to your taste. For Italian-styled stir-fries, try garlic, onions and tomato sauce. For a more Asian tinge, try adding soy sauce ginger, green beans and mushrooms.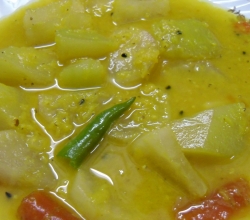 This dish calls for split chick peas lentil. It is a great dish and very unlikely that a lot of people would have tried. It is ideal for vegans and vegetarians and packed with a lot of protein thanks to the lentils. It is a light, easy and delectable dish and the only spices you really need for it are turmeric, paprika and cumin. You can eat this dish with some steamed basmati rice or just have it as a soup by itself. It is quite hearty and fulfilling.
Cottage Cheese Stuffed Calabash
This dish is very unique and supremely toothsome. The best apart about this menu item is that the recipe is extremely versatile, the calabsh can be stuffed with potatoes if you don't enjoy cottage cheese or if you are vegan. You will need to marinate the calabash for about an hour to really bring out the flavor so keep that in mind when preparing this dish.

 
This dessert is beyond delicious and so very different. It is bound to pique the curiosity of everybody once they spot this sweet treat. The addition of cashew, saffron, almonds, pistachio, and cardamom can make it all the more irresistible. This dish tastes best when it is served chilled so pop it into the refrigerator at least an hour or two before serving.
Im sure this tasty calabash menu has got you curious enough to want to try out these dishes as soon as possible. This is a great vegetable to work with and you are surely going to love its flavor.
Image credits – tajagoproducts.com; ifood.tv; vegrecipes4u.com
Calabash Menu